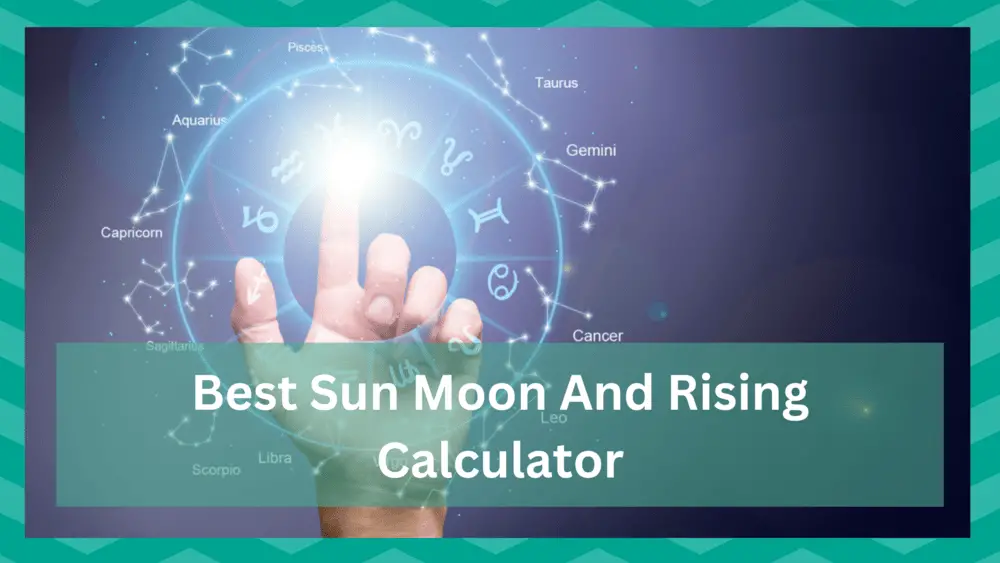 Sun moon, and rising calculator is a computational astrological calculator that is used used to calculate the sun, moon, and rising star of a person.
Ideally, this calculator is supposed to give you 3 signs of a person but it is really difficult to find a calculator that calculates all 3 for you. Sun moon and rising signs hold a special place in the hearts of astrological people.
When calculating three different terms it is important to elaborate on what each of them means and what's the difference between them.
Sun sign is the astrological sign that influenced the sun when you were born, it is also commonly known at the star or zodiac sign.
The Moon sign represents the location of the moon in the zodiac at the time of your birth and is believed to describe the emotional part of a human.
The rising sign, which is also known as the ascendant, it the zodiac sign that was rising in the eastern horizon at the time of your birth.
All these signs are interrelated and have a pivotal connection with your birth, so it's a no brainer that birthday is going to be a mandatory input in the sun moon, and rising calculator.
There is a wide range of websites (mostly astrological) that have tools to calculate these signs and it can be a bit overwhelming.
Finding the best sun moon and rising calculator can be time taking task but with this article, you can do it in a few minutes.
This article will discuss some of the best sun moons and rising calculators that the internet has to offer, small descriptions of the calculator will be given below each of them, make sure you read through them thoroughly and select the best one for yourself.
Hopefully, the calculators mentioned below will help you give a better astrological perspective about yourself.
Best Sun Moon And Rising Calculator:
1. Astro Fame: What are my sun, moon, and rising signs?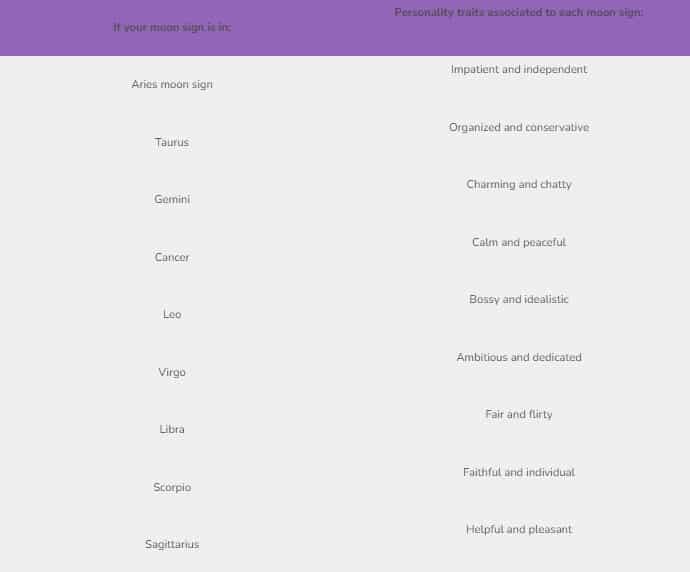 Astrofame is a website completely dedicated yo astrology and zodiacs, if you are someone who firmly believes in astrology, Astrofame can be a very engaging website for you, and probably have heard about it already.
Apart from astrology, you can also find sections related to numerology, spirituality, and Torat.
As we mentioned earlier, it is hard to find a platform where all 3 moon, sun, and rising can be calculated, but luckily Astrofame can help you calculate all of them.
You will have to scroll down a bit before you get to the calculator, which can be a little annoying if you are there just for the calculator.
The calculator is designed pretty well, complimenting the colors and style of the rest of the website.
Just enter the information about your birth that the calculator demands which includes your birthday, the time of your birth, and the place where you were born.
The website has a purple color theme that actually goes pretty well with the whole astrology and zodiac theme. All the sections of the websites are clearly mentioned in the header and most of the content of the website can be accessed from there.
Astrofame design seems like a perfect balance, it is not boring, and at the same time it is not too flashy, and also feels convenient from a practical point of view.
Click 'calculate my rising sign' once you have entered all the details, the calculator will direct you to the results and your sign will be displayed together with its pictorial representation.
2. Astrosofa: Calculate your rising sign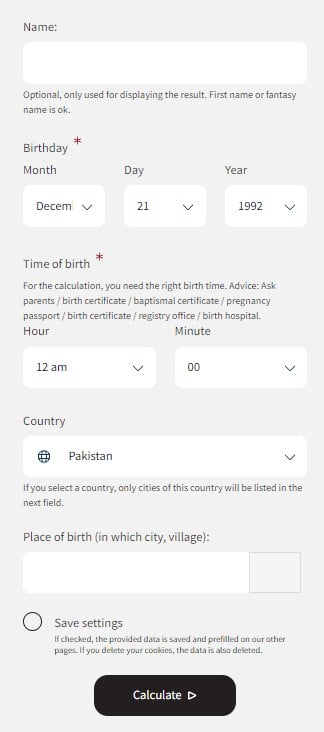 Sun moon and rising calculator is a tool that you will most probably find on astrological websites and not generic calculator websites, that's why all the websites on this list are astrology related.
Astrosofa is another website that focuses on astrology and horoscopes.
They even have an online shop where you can pay for reports and horoscopes for yourself.
The design of the calculator is almost like Astrofame that we discussed although, although the size of the calculator and font is slightly larger.
The inputs required by this calculator are related to your birth, just like all the calculators on this list.
Just enter your birthday, birth year, country of birth, and city of birth. Astrofame's calculator gives you instructions on how to enter the inputs
The design of the website is really composed and managed but Astrosofa isn't built like an astrology website, it lacks the flashy pink and purple color that astrology websites mostly have.
There are a few ads on the website which can be a little distracting, and you might also come across pop ads when moving to a different section of the website.
Once you are done with all the inputs, click calculate at the bottom of the calculator. The website will direct you toward the results page, where you will see your sun and rising sign.
You can also read through the personality traits of your signs given just below the results.
If you scroll down even further you find the astrology profile that has some extra information about you. If you want some extra details with your signs, Astrosofa is the platform for you.
3. Ask Astrology: Natal Chart Calculator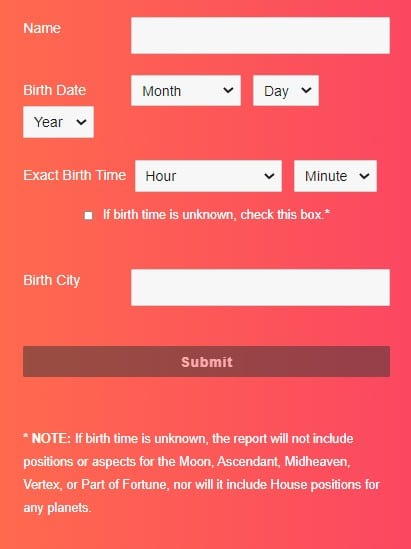 Ask Astrology is just another astrology website where you can find different content related to astrology.
Apart from the astrology section, you can find detailed descriptions of each zodiac sign, read about your compatibility, surf through the numerology section and even head over to the quiz section.
Ask Astrology also has a blog section that you can open and read about different topics related to zodiacs and astrology.
The UI of the calculators may seem kind of repetitive as all of them have the same interface but the style of calculator that has been discussed in this article is also the most efficient, it's hard to find a calculator out there with a different UI.
Just enter your name, birthday, exact birth time, and birth city. An extra feature that this calculator provides is that you can tick the box right below the exact birth time if you don't know it.
The design of the website is exactly how you would expect from an astrology website, all the main sections of the website are easily accessible from the header and menu.
Ask Astrology also has that purple color which is something that now feels essential for astrology and spiritual websites.
Once you enter all the details and submit them you will have detailed results in front of you, first, you will have a zodiac compass related to all your signs and if you scroll down you will see all the planets and points in your sign.
You won't only get the moon, sun, and rising signs but all of your signs will be mentioned below.
4. Cafe Astrology: What's my Ascendant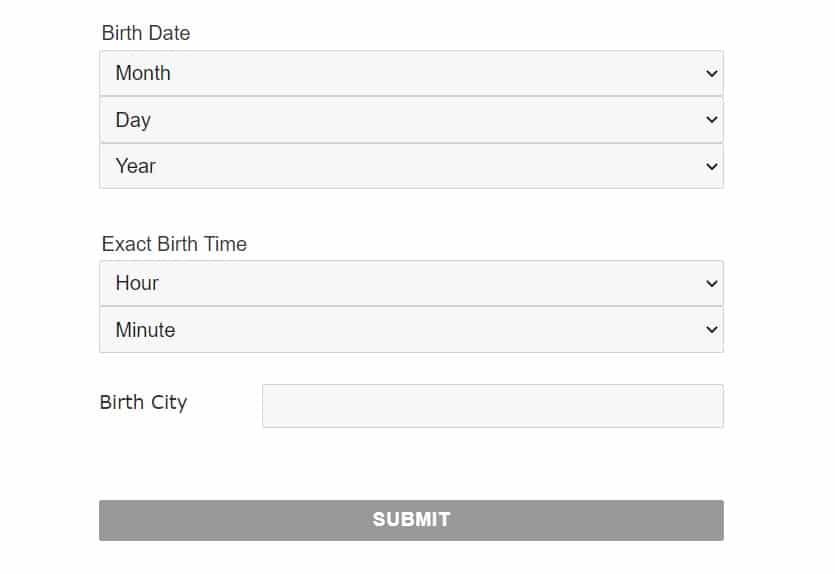 Cafe Astrology isn't a website that is widely used and you probably haven't heard about it even if you're into Astrology, but this does not make it any less than all the other websites on this list.
Like the rest of the websites on this list Cafe Astrology also have information regarding horoscopes and zodiacs which is no surprise because that is what Astrology websites do.
Just above this calculator we were talking about how repetitive and similar the calculators are in terms of UI, Cafe Astrology provides you with a slightly different design and UI, making it the most unique calculator on this list.
Although the inputs are the same, Cafe Astrology still gives you a change of design. You have to enter your birthday, birth time, and birth city to get results from cafe astrology.
The website is not as high-end as the rest of the websites discussed above, although you won't face any problems and hindrances while using the website.
A green and pink color theme has been used in the website and these two colors don't go with each other in this setting.
Apart from the colors, there are several other things in the website that are poorly placed. There is a site map that you can access that helps you navigate all the content on the website.
End Note
Sun moon and rising calculator can be a very helpful astrological tool and can help you know about yourself a lot in terms of astrology.
On a personal level, these three signs are the most important astrological terms that define the traits of a person.
All the calculators mentioned above are more than capable of giving accurate answers.
These calculators carry out the same calculations but differ mainly in terms of design, interface, and representation of results. Make sure you select the best one according to your preferences.