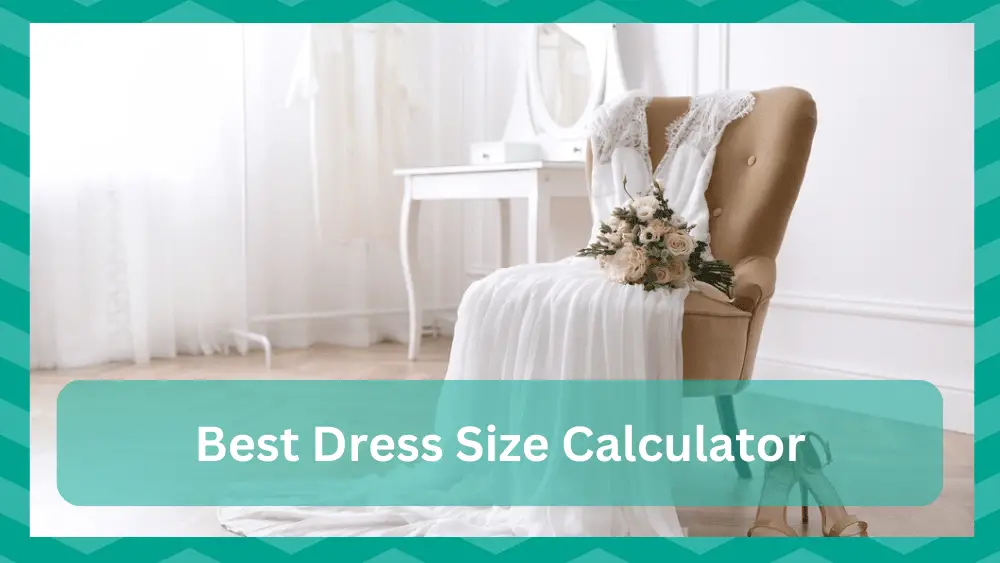 Dress size calculator is an appropriate tool that helps you find the perfect fit for yourself. If you are confused or have no idea what size fits you the best, then worry no more, because this calculator is the accurate tool to assist you out.
This calculator is simple and easy to use – it only requires a couple of your body measurements and gives you the precise size for the dress. This calculator provides you with dress size charts that have international sizes.
For finding the perfect fit, the three most commonly asked measurements by different calculators are; bust, waist and hips.
With the help of these measurements the calculator can easily guide you about the perfect fit for your body. You must have a measuring tape to take your measurements.
Some of the best dress size calculators guide through pictures on how to take proper measurements to avoid any errors.
It is important to note that you should not take measurements over your regular clothes as it can lead to wrong measurements and the calculator will provide you with the wrong size.
There are various types of standard sizing systems around the globe. Every size varies from one region to another.
If you are in Europe then your dress size will be different from that of US. For example if a woman wears a size 10 in USA then she should go for a size 14 in UK.
This calculator especially comes in handy when you are shopping dresses for yourself online.
When you shop from a store, it is easy to look and examine the dress closely but while you are shopping online, it can get tricky and confusing to select the appropriate size for yourself.
After all a dress that fits you properly adds beauty to your overall look.
Tag along this article to learn more about some of the best dress size calculator with different outlooks and interfaces.
Best Dress Size Calculator
1. Omni: Dress Size Calculator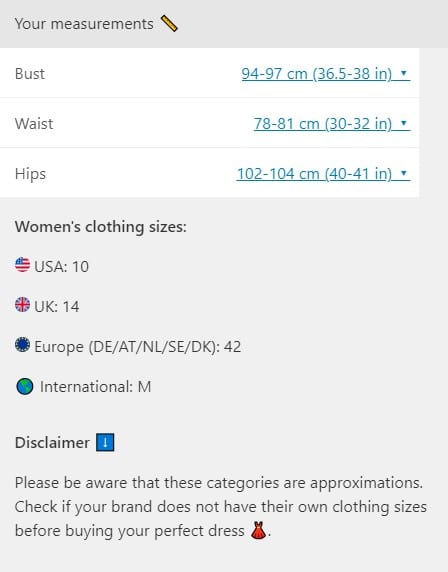 Omni's calculator is a renowned online tool that helps you calculate the correct dress size.
It is also an article where you can get all the guidelines about how to take measurements properly, how to use the calculator and other basic to complex concepts that are necessary to know about before proceeding with the calculation.
The interface is free of ads and cookies so you can peacefully carry out your calculations. It has a maroon and white theme, it has a moderate font that can be read easily from a certain distance and all the guidelines are evenly organized.
For calculation, you just have to measure and enter your bust, waist and hips. After entering all the parameters, the appropriate dress size will automatically appear at the bottom in USA and UK standards both.
This calculator has pictorial representation of how to take precise measurements through an inches tape or with the help of another person.
You will find a few dos and don'ts below the picture. It is important to keep those points in mind to acquire the right dress size.
This calculator has an extensive international size chart that has pretty much sizes from all the regions around the world. You can check your size in any standard system by tallying your calculated size with the values in the chart.
This calculator can be converted to 25 other similar calculators used for measurements with just a few clicks.
You can use it for finding out the precise size of your shoes, belt, skirt, hat, ring and many more. Go through all the options and you will see different everyday life calculators. You can select any according to your requirement.
If you are unable to understand how to take measurements through the pictorial description then no need to worry because this calculator offers you pre-recorded YouTube tutorials that has all the steps in detail that you can follow and take correct measurements.
This calculator also offers online job opportunities to those who are capable, have the potential to deal with work from home and are good with the latest technology.
You can apply by sending in your resume and try your luck.
2. Dress Magazine: Dress Size Calculator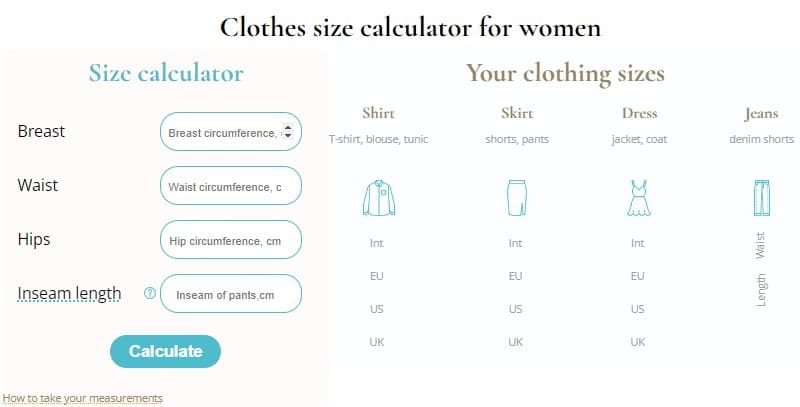 Dress magazine's calculator is a constructive and active online tool that helps you calculate the perfect size and has an attractive outlook.
It also offers you list and website links of different well-known brands that are famous for selling good quality fabric and have the best designs.
The interface is mostly clear with a couple of advertisements at the top and bottom. It has little symbols of each parameter in front of the calculator.
It has a blue and white overall theme – all the symbols are in blue while rest of the outlook is in white. The font size is considerably large and is easily visible by all.
For calculation, you have to enter you breast, waist, hips and inseam in the empty boxes before the symbols. Then click on 'calculate' and the final dress size will appear in front of you. You can enter your final dress size in the size chart table below the calculator.
The size chart table offers you to convert that final dress size into other standard sizes of other regions. You can also enter your measurement values to know about them in other standard sizes.
Below the size chart table you will see a big sized standard sizes table that has all the international measurements. You can tally or compare your final size with other international standard sizes.
This gives you an idea about what will be your appropriate size in other regions.
You can read some basic guidelines below the chart that will assist you knowing what clothing size you have, how is your size affected by height and weight, how to choose clothes in your size and much more.
It is better to read these guidelines before taking any decision so all your doubts and confusion are cleared.
On the top of the calculator you see the option of 'styles' and 'brands'.
Styles show you the famous designs of the latest year – the styles that are up-to-date and in fashion. While brands show you the options of different known brands near your vicinity.
You can have a look at 'ratings' to get an idea about the performance of the calculator.
It has all the reviews and feedback from previous and current users. You can also leave your comment by entering your email address and full name.
3. Catrina Bridal: Dress Size Calculator
Catrina bridal's calculator is a fancy online tool that operates on the basic formula and is free to use.
This calculator is a brand's official calculator that is created by the owner; Catrina herself. She's a dress designer and believes in the perfect fitting of a dress on a body because it gives your body a statement and looks beautiful.
The interface is clear – free of advertisements, cookies and website links. The theme of this calculator is magenta and white that looks very captivating and catches your attention as soon as you open the calculator.
For calculation, you have to enter the size category, enter your bust, waist and hips. Then press 'calculate size' and your accurate dress size will display in front of you.
This calculator has two size chart tables namely Mori Lee Size Chart and Julietta Collection Size Chart.
You can go through both the tables and choose any one that you would like your dress size in. When calculating you can select the category according to your preference.
This calculator offers you a variety of dresses for weddings, bridesmaids, women, and men, formal, informal and many more.
You can also order the dresses online and avail some discount. You can also book an appointment with Catrina and discuss your views and ideas.
This calculator also offers accessories that you can match with your dress and order online through Catrina's website and get a discount with free shipping.
If you have any queries or questions you can either email on the official email address mentioned at the top of the calculator or you can call/message on the official number.
The option of WhatsApp is also available that makes it easy for people from other regions to directly contact the team.
You can follow it on Facebook, Twitter and Instagram to get the latest updates about new designs, dresses, sales, discount codes and so much more.
End Note
Some of the best dress size calculators with a variety of interfaces, methods and outlooks are mentioned above. You can check them all out and use the one that suits you better.