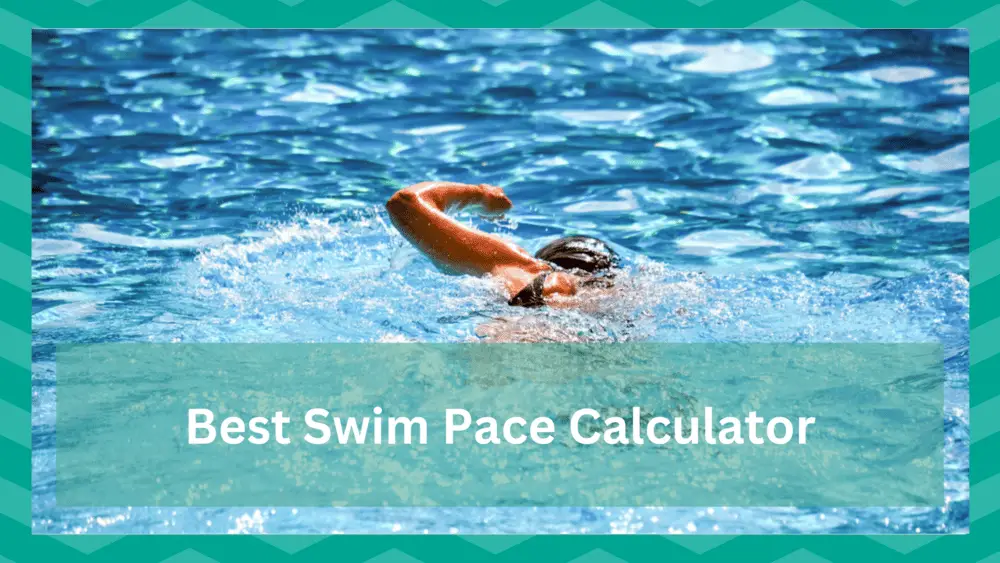 Swim Pace Calculator is an online computational tool that is used to calculate the pace of a swimmer for a certain swim.
If you have just finished a long swim and was wondering the average amount of time you take to cover a specific distance, a swim pace calculator can you the answer. This can prove to be a very useful tool for swimmers.
You might be confused by the word pace and misinterpret it for  speed, because in our everyday lives, speed and pace are used interchangeably but in scientific terms, these two are a bit different although they both depend on time and distance.
Speed is defined as the distance covered per unit of time like 45km per hour, whereas pace is defined as the time it took to cover a specific distance, like 30 mins per km.
Pace can be a more useful way of representing an athlete's progression in a race and it is not only used in swimming but all kinds of sports.
Swimming is a really popular sport which is practiced all over the world, it has been a part of Olympics for more than a century and is one of the most spectated sports in the competition.
It doesn't matter if you are an experienced swimmer or someone who is just starting to have an interest in this sport, a swim pace calculator will help you immensely.
Finding the best swim pace calculator can be a little tricky, if you search for swim pace calculators online, you will get a bunch of calculators and it can be hard for you to decide the best one.
The preferences vary from person to person, in this article some of the best swim pace calculators will be discussed. They all carry out similar calculations but vary in other aspects.
A small review of each calculator has been mentioned so you decide the best swim pace calculator for yourself.
Hopefully, after reading this article, you will be able to calculate your swim pace with confidence and accuracy.
Best Swim Pace Calculator:
1. Liquidtri: Swim Pace Calculator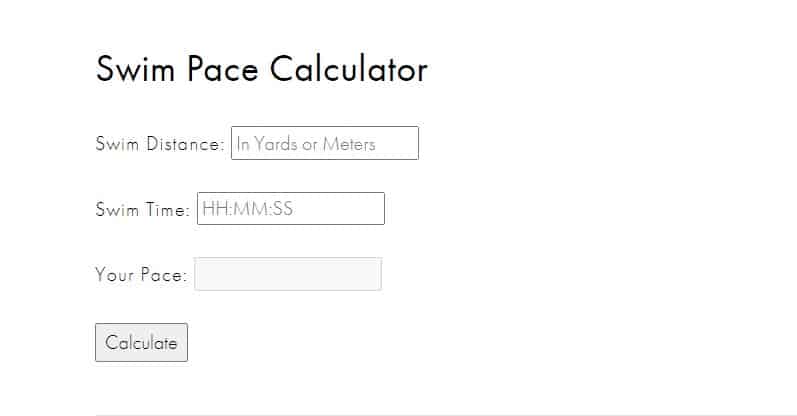 Liquidtri is a program that focuses on teaching and coaching competitive swimming, there are a lot of courses that you can view on their website which include; 8-week sprint triathlon swim training program, couch to 1 mile, couch to 10 Km swim, online swim coaching and a lot more.
Most of these courses are really cheap and some of them are even free.
A company that is so focused on swimming is bound to have a really efficient swim pace calculator.
The design of Liquidtri's swim pace calculator is simple as it could be, you only need to enter two inputs to calculate the swim pace, and this is something that remains the same for all calculators.
Just enter the distance in meters or yards and time in the Hour: Minute: Second format.
This calculator is not really designed as a calculator, you just have two input boxes as a result box at the bottom of the page
The design of the website is probably the best one on the list, although liking the design is something that varies from person to person, you will appreciate the focus on the design as soon as you enter the website.
Fonts, images, and the subtle yellow color scheme, all make the website seem well-composed and provide a really great user experience.
Once you have entered the distance and time, click calculate, and the pace will be displayed below in the  Hour: Minute: Second per yard format.
2. My Swim Splits: Swim Pace Calculator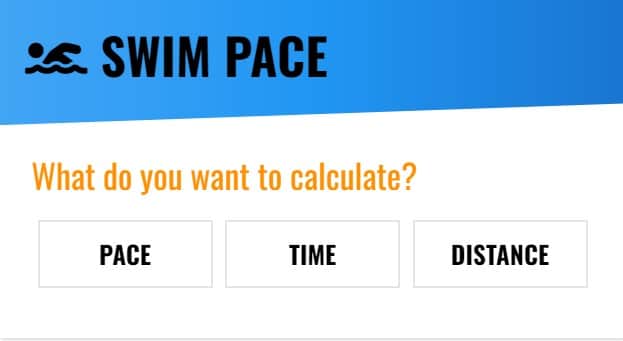 My Swim Splits is a website dedicated to swimming statistics, most of the content on their website is divided into 3 parts; swim calculators, swim analysis, and Top Race performances.
You see the analysis on different swimming techniques for men and women or you can head over to the performances section to view the top 5 performances in every swimming technique, but your main focus here is the swim pace calculator.
There are a bunch of swimming calculators that you access on My Swim Splits in addition to the swim pace calculator, like the goal time calculator, yards goal time calculator, critical swim speed calculator, race review calculator, and a few more.
Once you open the swim pace calculator, you'll be required to select the measurement you want to calculate, which in your case will be Pace.
Select the unit you want to get the answer in and enter the time and distance of your swim.
My Swim Splits might not be the best-designed website on this list as it feels a little incomplete.
From a practical standpoint, there are no glitches on the website and it runs smoothly but aesthetically, the website could have done a little better.
Once you have selected the units and entered the time and distance click calculate and the swim pace will be displayed at the bottom.
If you scroll down you can find some information regarding the calculator and how it can be used, they have also explained the steps for calculating swim pace.
3. Swimbikerun.net: Swimming Pace Calculator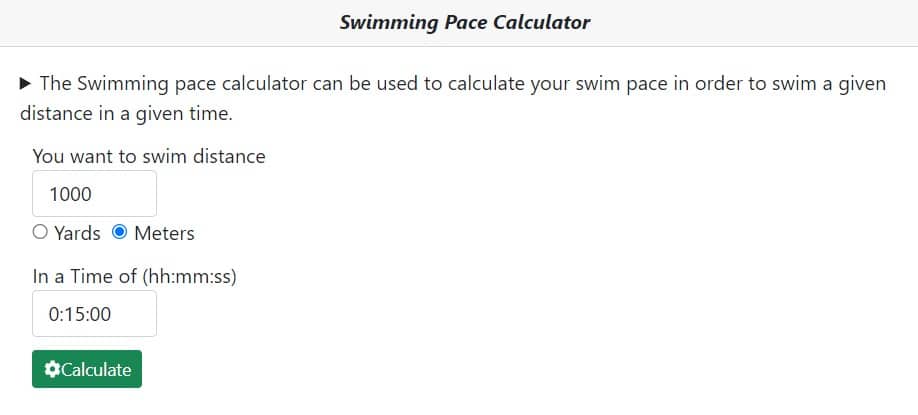 It should be pretty clear to you from the name, what this website is all about, the websites that we have discussed previously were mainly focused on swimming, but Swimbikerun.net is dedicated to multiple sports, swimming, biking, and running, just like the name suggests.
You can find a few calculators related to all 3 of these sports, and in addition to that, there is also a 'Body' section which has different fitness calculators.
If you are a swimmer you might also find some calculators other than the swim pace calculator, that you can use.
The interface of Swimbikerun.net's swim pace calculator is fairly simple just like all the other calculators in this list, just enter the distance that you need to swim and the time in which you have to swim it and make sure you select the right units.
The design of the calculator is very basic and there are no elements or colors in the calculator which makes the calculator seem less attractive, but this does not affect the results in any way so if you are not bothered by the boring design this calculator can be a good choice for you.
Once you have entered the distance and time click calculate and you will get a table of results below which include both, your pace and your speed, in metric and imperial units.
Swimbikerun.net represents the results better than any other calculator on this list.
4. Davek Jaer: Swim Pace Calculator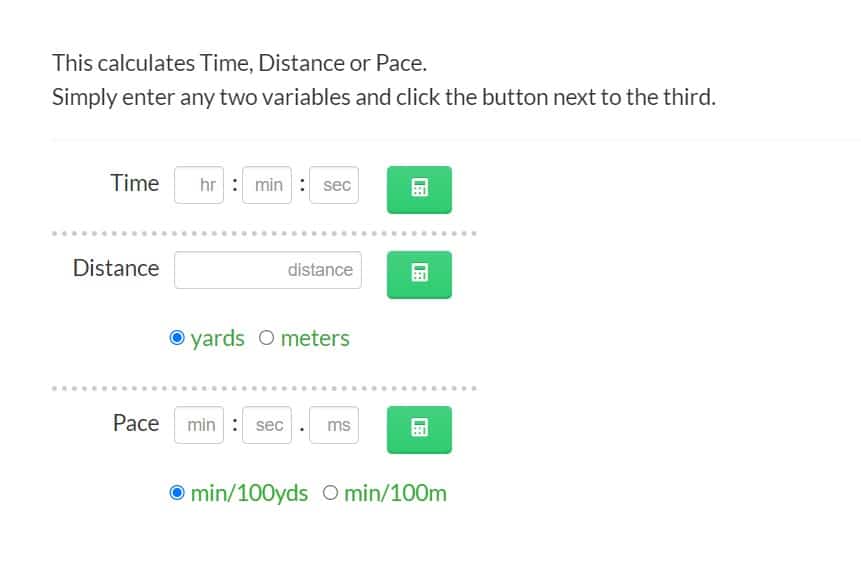 Davek Jaer is a website with the same name as its creator, and it is a mixture of the hobbies of Davek Jaer himself.
It is not really a popular website and the main purpose of the website is to share the creator's hobbies with the rest of the world.
The website mainly revolves around fitness, music, and the benefits of a vegan diet. Luckily the website has a really good Swim Pace Calculator as well.
This calculator has the best and most structured interface out of all the calculators on this list, a thing that is missing in the rest of the calculators is that they are certainly efficient but don't feel like calculators, Davek Jaer's Swim Pace Calculator feels like a calculator without compromising the simplicity.
There is a small green calculator icon next to all the inputs that you can click to get the reading, just like all the calculators discussed above you only need to input time and distance.
It is hard to categorize this website, but for the most part, the website is really interesting, and so is its design.
The website is supposed to be a healthy and fun platform for people with similar interests to be immersed in it. You might just be here for the Swim Pace Calculator but who knows you might find something interesting other than that.
The pace will be displayed in front of the box labeled pace as soon as you click the calculator icon in front of it after entering the inputs.
End Note
Swimming is a very healthy activity, and you don't need a competitive reason to get into it, swimming can be extremely beneficial for your body and your mind.
You use a swim pace calculator to estimate your swims and work on them, these calculators can be used by anyone from professionals to beginners.
Make sure you go through each of the calculators mentioned above and try all of them out for a hands on experience and choose the one that best suits your needs.