Travel Time Calculator is a very simple yet effective tool that is used my almost everyone these days. This calculator allows you to calculate the time between the start and end of your journey from point A to point B.
In today's modern world the value of traveling time has become increasingly important and we need to know exactly the amount of time we'll spend traveling.
The use of digital maps has increased exponentially in the past few years and one of the main functions of the map is to find the travel time between two places, all of us can relate to opening an online map to view the total time of the journey.
Whether it is a long journey that you are embarking on, or a daily commute to a job or college, knowing the traveling time has now become a part of our lives.
We don't even calculate our journey in length and distance anymore instead we are more comfortable when we have a figure in terms of time. Travel Time Calculator uses simple physics to calculate the results according to your details.
Calcukltors are such a widely used tool that once you start searching for them you will find a bunch of them online and most of them work pretty good, but the reason you are here is to find the best travel time calculator, so just stick with this article if you want to do that.
In this article, the best travel time calculators that the internet has to offer have been discussed and a small review for all of them has been given below each of them highlighting their best and worst features.
Go through this article carefully and hopefully you will be able to find the best Travel Time Calculator for yourself.
Best Travel Time Calculator
1. Omni Calculator: Drive Time Calculator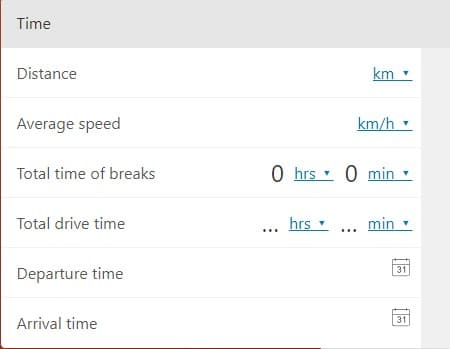 Omni Calculator is one of the most widely used calculator platforms on the internet if not the most used.
If you are someone who regularly works with calculators and uses them in their everyday life, Omni Calculator is a website that you must have heard about.
They have such a wide collection of calculators from various topics and fields like; math, construction, health, finance, electricity, science, and a lot more. It is hard not to find a calculator on Omni Calculator.
The design and interface of all the Omni Calculator's tools are almost the same and mostly just vary in the forms of inputs and outputs. You need to input 6 entries in this calculator including the departure time.
The UI of the calculator is very structured and self-explanatory, all the inputs are clearly mentioned and you can change the units of all the inputs according to your requirements.
The design of the website is as good as you would expect it to be from such a famous website.
Omni Calculator has the best-designed website not only on this list but also on all the other calculator websites out there.
They use a signature abstract aesthetic throughout the website which really makes the whole design uniform.
Another thing that you'll notice in Omni Calculator's design is that they have separate colors for each type of calculator.
Once you have entered all the details you will get the arrival time and date of your travel.
Omni Calculator's Traveling time calculator doesn't give you the exact amount of time which is something you should keep in mind before you start using it, there is a chance that some users won't prefer this.
If you scroll down you can find a second part of the calculator which can also calculate the fuel costs of the travel.
2. Travel Math: Travel Time Calculator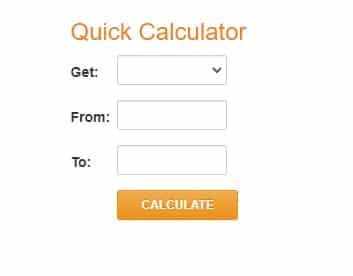 Unline Omni Calculator, Travel Math is a website dedicated to calculations regarding travel and does not support tools and calculators related to other topics.
They have different sections on the website which are Driving, Distance, Flying, Time, Cost, and Places.
You can find your way into these sections for tools and calculators related to them. Travel Time Calculator can be found in the 'Time' section of the website.
The design of the calculator is quite simple, you only need to input 3 simple entries to find the travel time, which is the time that you are trying to calculate (for example flight time or driving time, etc), the start point, and the endpoint.
The interface of the calculator is simple, but this also makes it kind of boring and unattractive, if the design is not a priority for you then Travel Math would be a really convenient choice for you.
The design of the website hasn't been given much focus and is quite simple but does not look bad at all.
Even though there are not many design details on the website it is still pretty organized and you won't run into any glitches or errors while using the website.
Another convenient aspect of this calculator is that you need to enter the distance of your journey in this calculator you just have to input the names like if you are traveling from Liverpool to Manchester you just input the name of the cities and the rest will be done by the calculator. Though this can make the results less precise.
3. Distances From: Travel Time Calculator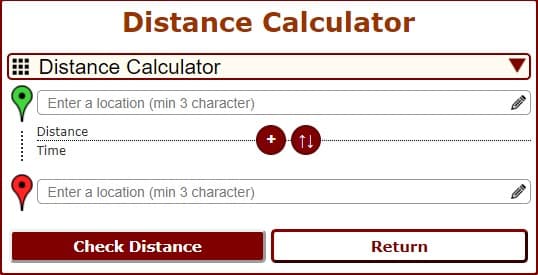 Everything you need to know about this website is already pretty concisely wrapped up in its name, Distances From is a website that is all about calculating distances.
You find flight times, drive times, travel distances, maps, and even calculate travel costs.
This travel time calculator is certainly one of the best calculators out there and it is highly recommended that you check it out.
The design of the calculator is different from all the other travel time calculators on this list and seems a little outdated but it is really simple to use.
You need to enter two inputs for Distances From's Travel Time Calculator, the start location and the end location you can also swap the two locations if you want to
The design of the website is pretty is almost like the calculator itself. The website might seem a bit overwhelming as it has a lot of buttons and content which can seem a little bit complex.
Click 'Travel Time' once you have entered both locations. You will get a number of results from the calculator, it will give you the driving distance, driving time, flight distance and flight time.
You can click on other details if you want to find out the directions and other stuff related to the journey.
4. Calculator Soup: Speed Distance Time Calculator
Calculator Soup is one of the most widely used calculator websites, this website is mainly dedicated to finance and math calculators with calculators, tools, and converters of other subjects also available on the website.
You can Calculator Soup's Travel Time Calculator in the Math section of the website, it is definitely one of the best out there.
This calculator is not dedicated to calculating time but also speed and distance. It depends on your details and requirements that how you use this calculator.
Make sure you select 'Solve for Time' before you start entering the details. You need to enter the distance and the average speed of your travel to calculate the time.
The UI of the calculator is pretty simple and straightforward, all the details have been mentioned concisely and clearly.
The design of the calculator is just what you expect from a calculator, it is not too flashy and also not boring, and it feels like a professional technical calculator.
The design of the website itself isn't that great, but it is also hard to find a clear flaw in it, the website just doesn't look that great apart from that there are no practical drawbacks of this design at all.
Once you have entered the distance and speed click 'Calculate' and you will have the travel time displayed below represented in 3 formats.
End Note
Traveling Time Calculators feel like an essential tool in today's world and less like a luxury. Traveling is actually depending on the speed with you are traveling and these calculators estimate an average speed based on the details that you have provided.
It's always a good thing to know the traveling time for the sake of your schedule.
It is important that read through each of the calculators mentioned above carefully and try them all out for a hands-on experience.
All of them are more than capable of giving you authentic and trust worthy results; just find the calculator that you are most comfortable with.