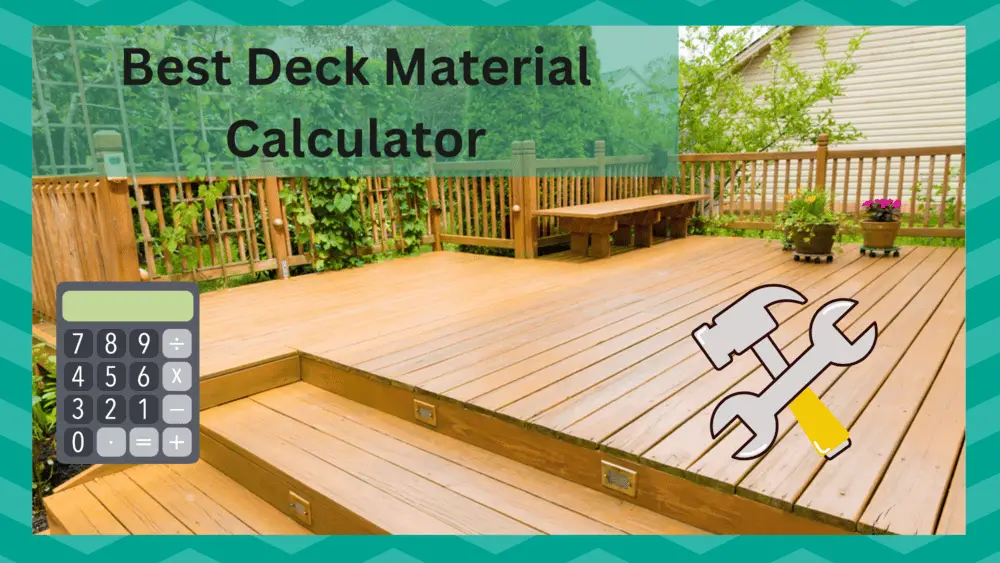 A deck material calculator is a tool that calculates the amount of material needed to build a deck. Deck in an area built from wood mainly at the back of a house.
It is mostly used for recreational activities but can also be used for other stuff.
Building decks is a lengthy and complicated process. A lot of details go into the design and planning of a deck. Its complexities aside, deck building also requires a lot of money.
The financials mainly depend on the size and type of the deck but it is definitely not a cheap process.
When buying material for building a deck you would want to limit the waste as much as possible but you also wouldn't want the material to be in short supply.
A deck material calculator accounts for all your dimensions and requirements and gives you the right amount of material needed.
Decks are normally built by professionals who have some experience in the deck or handymen industry but a calculator will still give you a pretty close estimate.
There are a lot of decks material calculators that you find online, some of them can be found on hardware websites, and some on calculator websites. But if you want to find the best ones, you need to stick with this article.
Some of the best calculators for deck material will be discussed below and a summary of the calculators will also be given so you can find the best deck material calculator for yourself.
Hopefully, once you are done with this article you will be able to calculate your material requirements accurately and you will also have a better understanding of the whole procedure.
Finding the Best Deck Material Calculator
1. Decks.com: Deck Board and Material Calculator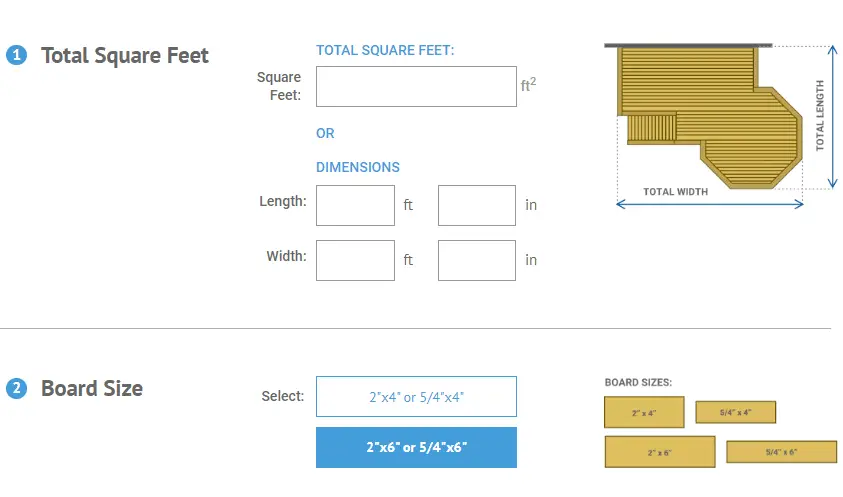 Decks.com contains everything you need to build your deck. You can go through their deck plans which can be accessed without any cost and have all sorts of designs.
If you already have a design in mind, you can use their free designer app to illustrate your own plan.
There are numerous guides related to every step of deck building which can be accessed in the 'How To' section.
You can find the material calculator in the 'Calculators' section and it is one of the most detailed yet easy-to-use calculators out there.
5 inputs are required from you, which include; total square feet, the board size, joist spacing, decking angle, and total length of perimeter.
The UI of the calculator is quite user-friendly and simple. All the inputs are self-explanatory considering that the user has a basic knowledge of decking.
The design of the website is something that also matters when you are trying to find a good calculator. Fortunately, Decks.com has a great website design.
In general, the design is kept simple just like the calculator. A simple design that is well organized makes this website look tidy and clean.
The design is also adequate in terms of practicality as there are no glitches or pop-ups. And all the contents of the website are easily accessible.
Once you have entered all the inputs, click the 'Calculate' button, and your results will be displayed below in a tabular format. The table will include the board options, required, waste, and total.
2. Mr. Handyman: Deck Material Calculator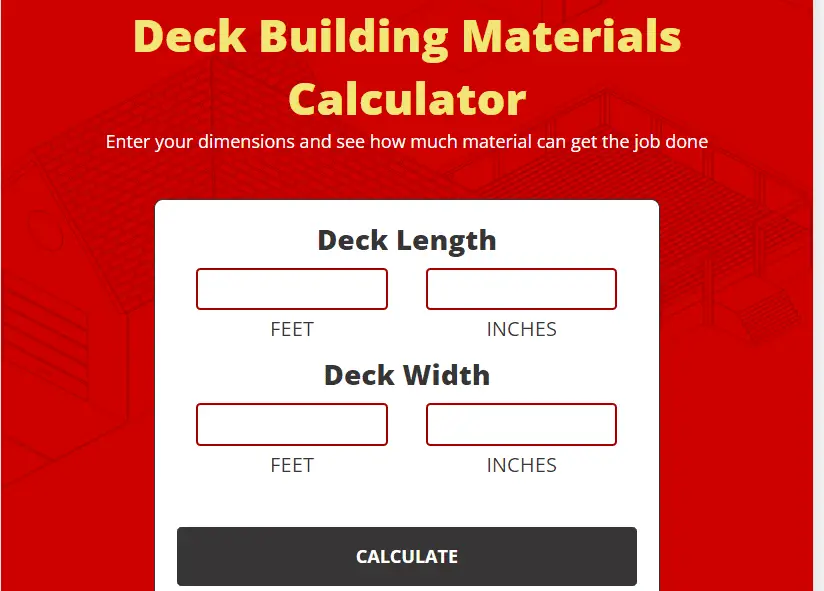 As you can tell from its name Mr. Handyman is a company that provides all sorts of handyman services.
It is a trusted company based in Michigan, USA and they have been in the handyman business for more than 2 decades.
You can find all the information regarding their services and locations on their website. Luckily, they also have one of the best Deck Material Calculators on the website.
This calculator is a lot more simple than the one discussed previously. For this calculator, the only inputs required from you are deck length and deck width.
It is the least detailed calculator on this list which can be something a lot of individuals are looking for. But it can also be a deal breaker for many.
The design of the calculator is really interesting. All the brand colors have been incorporated into the calculator with an animated deck illustration at the back.
The design of the website is also pretty great, considering that the main function of the website is to present Mr. Handyman's services.
There is a lot of content on the website but it is easy to access and navigate, which is an indication of a good design.
Once you have entered the dimensions, click the 'CALCULATE' button given below, and the materials and their quantities will be displayed below.
You can click on the 'info' icon to learn more about the materials of the deck.
3. Omni Calculator: Decking Calculator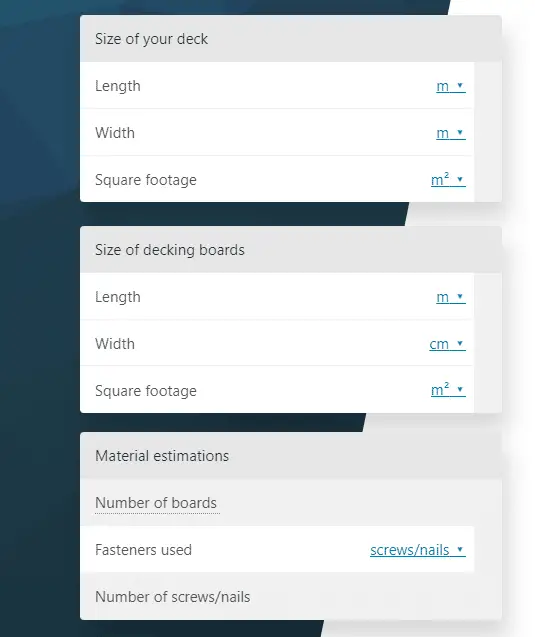 Omni Calculator is the only website on this that is a calculator website, and probably the largest calculator website. It has millions of users that trust the wide variety of calculators offered on this website.
Alongside physics, chemistry, math, and other scientific calculators you can find some pretty practical calculators as well. This deck calculator can be found in the 'Construction' section.
Omni Calculator is a really popular website when it comes to calculators.
If you have used this platform before you will notice that all the calculators have a similar design which brings uniformity to the whole website.
There are two input sections in the calculator; the size of your deck and the size of the decking boards.
The first section is pretty similar to Mr. Handyman's calculator while the second one is an extra detail that allows measuring the amount of material more accurately.
Design is one of the strongest features of Omni Calculator. It has a unique abstract wallpaper in the background that changes color depending on the category of calculator that you are using.
There are a few ads on the website which can be a little annoying for some people.
Make sure you enter all the inputs carefully and once you are done, the number of boards and fasteners will be displayed below in the result section.
There is also a section for cost estimation for the material and you can find the total cost of your project by entering the price per unit.
Which Calculator is the Best?
There are a lot of options available on the internet for deck material but the good ones are hard to come by.
All the calculators discussed above are really practical and will provide you with accurate results but can we name one of the calculators as the absolute best?
It is hard to name a calculator better than others because even though they are the same in terms of functionality they differ in a lot of other areas.
Decks.com's calculator provides you with a well-structured interface.
The calculator is simple to use but has a lot of details. If you are looking for a detailed calculator which will account for all the dimensions and materials, Decks.com will be the best choice for you.
Mr. Handyman is the opposite of Decks.com as it requires the least amount of input from you which also means that it'll be less accurate than other calculators.
If you want a tool that just gives you a quick idea of your deck material, Mr. Handyman should be a clear choice for you.
Omni Calculator can be seen as a balance between Decks.com and Mr. Handyman in terms of inputs.
But, it also has a really great design, which is arguably the best on the list. So, its inputs aren't the only reason you should opt for this calculator.
Choosing the best calculator comes down to the user and their preferences, but if we do have to choose one calculator as the best, it would be Decks.com's calculator.
End Note
Deck material calculator is a very specific tool and many people haven't heard about it, but if used the right way, it can be massively helpful for your projects.
These calculators can be used by anyone, from homeowners to hardware service providers.
All the calculators mentioned above are trustworthy and accurate but make sure you always get an expert's opinion before making any decision regarding your deck.
Make sure you go through all of the calculators carefully and stick with the one that feels most comfortable.