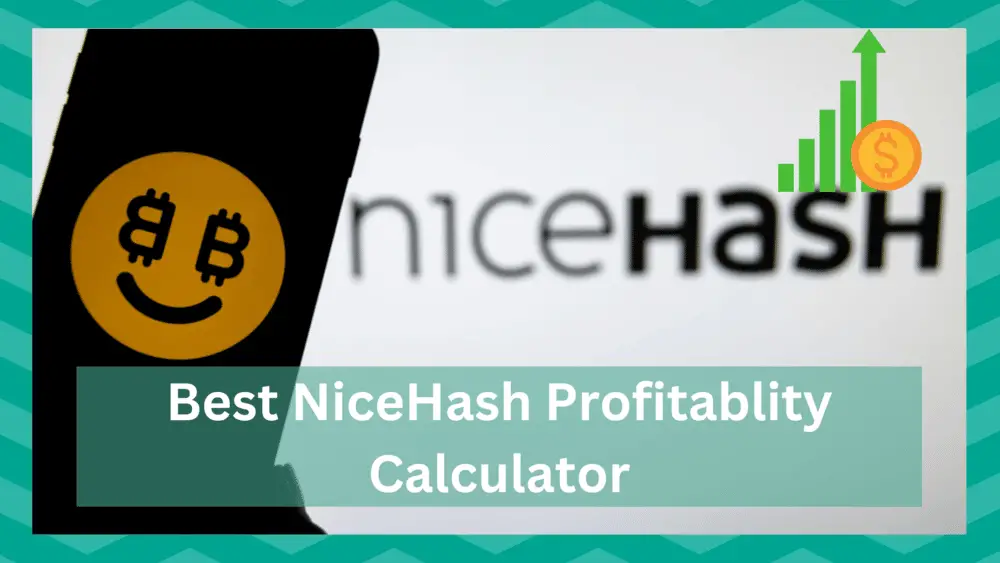 A Nicehash Profitability Calculator is a tool that allows you to estimate your mining profits on NiceHash.
Mining is a term that you probably have heard concerning these currencies. In simple words, it is the process of creating new cryptocurrency coins.
The most famous currency to mine is Bitcoin and NiceHash is the largest mining platform for Bitcoin. Cryptocurrencies have become widely popular over the last decade or so.
There was a time when people thought that these currencies were nothing but a hoax, and now investments are being made in these coins by millions of people.
It all started in 2009 when the cryptocurrency, Bitcoin was launched.
As bitcoin slowly gained popularity, other currencies also began to emerge, and there are more than 1200 registered coins on exchanges all over the internet.
Despite all the popularity that they have gained, cryptocurrency is still a topic that makes a lot of individuals nervous and mining is a bit more complicated part of it.
Mining can turn up some really good profits if it is done the right way and with the right equipment.
NiceHash is certainly one of the largest Bitcoin mining platforms and a calculator to estimate your profits on this platform can be very useful.
There aren't a lot of options out there for NiceHash calculators.
However, you can also use some of the mining profit calculators, which aren't designed for NIceHash but still give you a pretty good estimate.
In this article, we are going to talk about some of the best tools that can estimate your profits on NiceHash.
A small review of each of these calculators will also be given below highlighting their noteworthy features.
Mining profits might be something that you aren't sure about but hopefully, after using these calculators you will be able to calculate your profits accurately. 
Best NiceHash Profitability Calculator
1. NiceHash: Profitability Calculator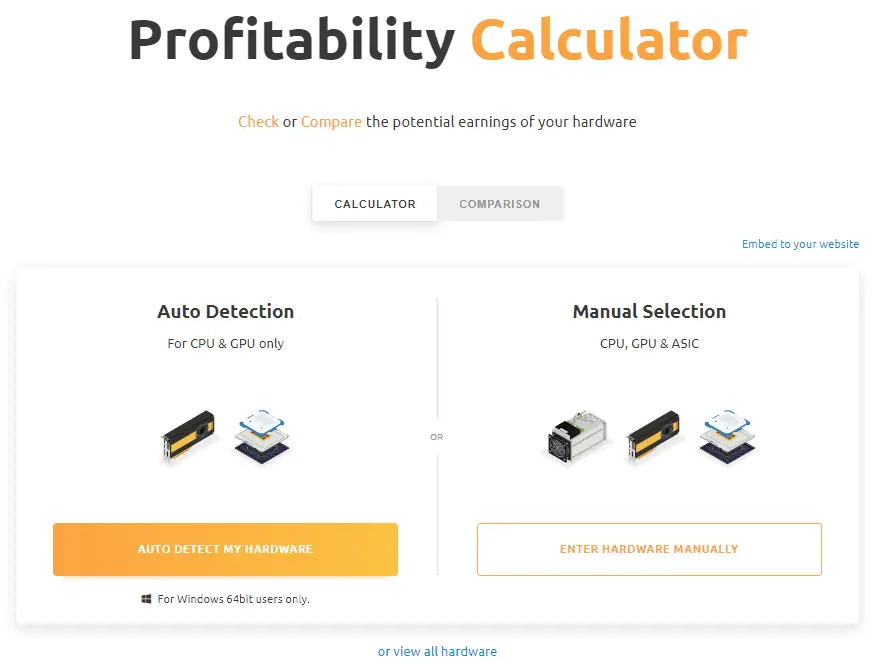 One of the best websites that give you access to a really good NiceHash profitability calculator is NiceHash itself.
It makes sense to go with this calculator because you can blindly trust the results you get from here.
There is a lot of information that you can get from this website related to mining and how you can mine cryptocurrencies using NiceHash.
You will probably expect an immaculate calculator from this website, as that is exactly what it delivers. The first thing you need to do is enter the information about your hardware.
You can type it in manually or let NiceHash detect it. You also need to enter the cost of electricity that your hardware will be consuming.
You can also compare two hardware systems to see which one is more profitable for you. The calculator's design is pretty great, and it has all the NiceHash colors and design details.
The interface is self-explanatory, all the inputs and buttons of the calculator are labeled clearly. The UI of the website is exactly like the calculator's UI.
Anyone can easily access all the functions, tools, and guides. There is a 'Need Help' button on the button right corner that you can click from anywhere on the website if you have any questions.
After you have entered all your inputs, click the 'Calculate' button, and your profit per day will be displayed below in green. In case of a negative value, the text of your results will be turned grey.
2. Minerstat: Nicehash Etash Profitability Calculator

Minerstat might be confused about a platform that provides mining services, but it is actually a website that provides tools and analytics related to mining.
If you are into mining, Minerstat can give you access to some really practical tools. You can look up different coins and see look up their prices and performance in the miner market.
To get full access to their mining management system, you need to buy it. This profitability calculator has a totally different UI and layout compared to the one discussed above.
On the top of the calculator, you are required to enter 5 inputs, which include the hash rate, power consumption, pool fee, currency, and electricity costs.
These inputs might not be favorable for some users because the power specifications of the hardware being used aren't common knowledge.
Minerstat has an adequate but common website design. Almost all websites related to cryptocurrency have the sort of design you can see on this website.
You can easily view all the major functions of the website from the header. Accessibility for all the software and tools is pretty great.
There are no ads or pop-ups here, and you can expect a smooth experience from this website. Once you have entered all the inputs, click the 'Calculate' button on the right side.
Estimated incomes and costs will be shown below in a tabular form. Costs and estimated profits are shown against different periods, e.g., last 1 hour, last 24 hours, and last 7 days.
3. CryptoCompare: Mining Profitability Calculator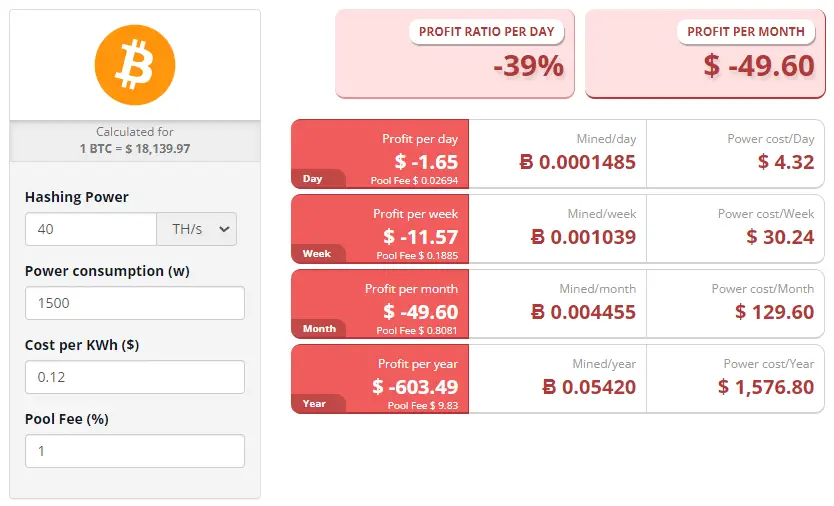 CryptoCompare is a cryptocurrency platform where you can learn the basics of blockchain technology and find information related to different coins.
You can find guides related to mining, exchanges, wallets, and gambling. A big part of crypto trading is staying up to date with crypto news.
This website has a really good news section where fresh news is posted quite frequently. CrytoCompare doesn't have a calculator that is listed as a NiceHash profitability calculator.
This calculator just calculates mining profitability generally, and the results that you get are pretty similar to a NiceHash calculator.
First, you need to select the coin that you are going to mine, you can choose from BTC, ETC, XMR, ZEC, DASH, and LTC.
All of these are top-ranking coins, but you should go with BTC because that is what NIceHash mines.
On the left side of the calculator, you need to enter your inputs which will include, hashing power, power consumption, power cost, and pool feel.
Make sure you enter the pool feel to be 1%, as that is what NiceHash charges. The design of the whole platform is kind of overwhelming.
You can see a lot of information on every single page, stats, prices, links, and advertisements are over the website. Despite all of this, it still looks pretty well managed.
The results will be shown automatically on the right side of the calculator once you have entered all the inputs.
These results will include your profit per day, the amount of bitcoin mined per day, and the daily power cost.
Which Calculator is the Best?
You might have limited options when it comes to profitability calculators of NiceHash, but the three calculators mentioned above are more than enough.
They are performing the same calculations but differ in a lot of other details, as you would know by now. Defining one calculator as the best one is not as simple as it sounds.
Because they are very similar to each other in calculations and functionality, but on the other hand, they are quite different in terms of design, interface, and representation of results.
All this comes down to preferences. If you want a calculator which shows you the current profits and the past profits, Minerstat will be the best option for you.
If you are looking for one that has an extensive and flashy result section and the platform of that calculator is related to crypto, not just mining, CryptoCompare will be the right choice for you.
A stock NiceHash experience is something that will be preferred by a lot of users, and that is why the official profitability calculator of NiceHash is used so much.
NiceHash's profitability calculator can be dubbed the best calculator out there not just for NiceHash but for mining in general, based on its simplicity and immaculate design.
But don't let this information stop you from exploring the other calculators. Try sticking with the one you feel most comfortable with.
End Note:
Mining cryptocurrencies is one of the most profitable phenomena in the modern world.
As we move more toward blockchain technology, the prices of almost all coins are bound to increase, and mining profits are going to increase with them.
As stated earlier, mining is not always viable, and you need a good profitability calculator to consider your cost and income to see whether it is profitable.
The calculators mentioned above will give you a pretty estimate of your earnings on NiceHash.
Make sure you have entered the specifications of the hardware correctly before you start analyzing the results.