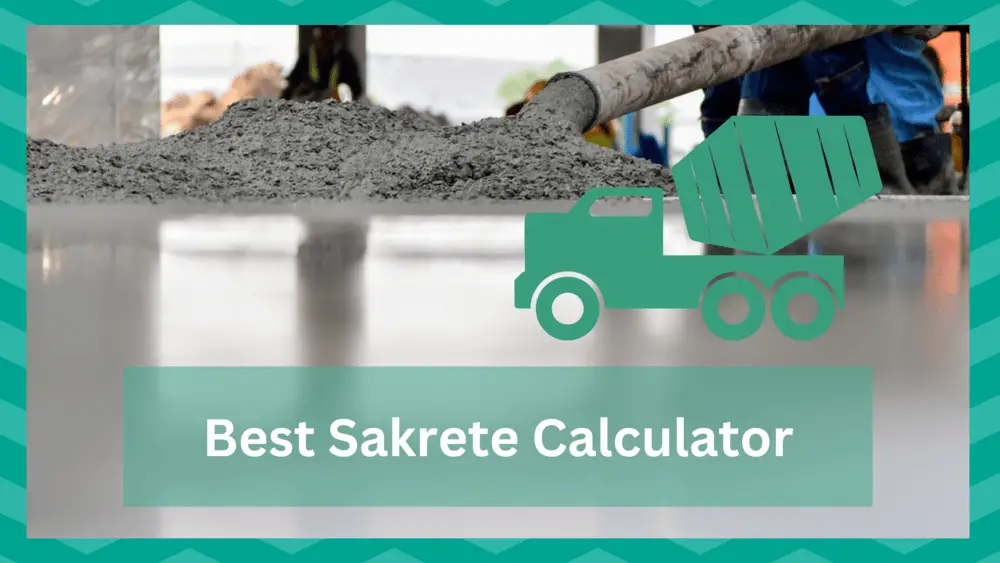 A sakrete calculator is a tool that calculates the volume of Sakrete needed for a construction or maintenance-related project.
Sakrete is a company that manufactures different formulations and variations of concrete.
Sakrete is a very successful and widely trusted concrete brand that is used equally by homeowners and professionals.
People might confuse Sakerete as a type of cement or construction and building material, but Sakrete is actually a brand of concrete.
This company has been giving its services and products to consumers since 1936. They were the first manufacturer that started selling concrete mixes in bags and in small portions.
Sakrete mostly operates in Canada and USA. Their consumer market might be limited, geographically, but they still have thousands of satisfied customers.
Sakrete is a very useful concrete mix, and everyone wants to use it in their homes and projects, but you can't do that until you know how to use it properly.
A Sakrete calculator will calculate the amount of Sakrete required for your project, so you don't have to.
There are hardly any Sakrete calculators that you can find online that actually work. You can use any adequate concrete volume calculator to measure the required amount of Sakrete.
In this article, we will be discussing the calculators that you can use to measure the volume of Sakrete that you need for your next project.
So, stick with the details given below, as all the calculators will be briefly reviewed, highlighting their most prominent features.
You will be given enough information that you will be able to select the best Sakrete calculator for yourself.
Hopefully, once you are done with this article, you will be able to calculate Sakrete volume efficiently.
Best Sakrete Calculator
Sakrete: Concrete Project Calculators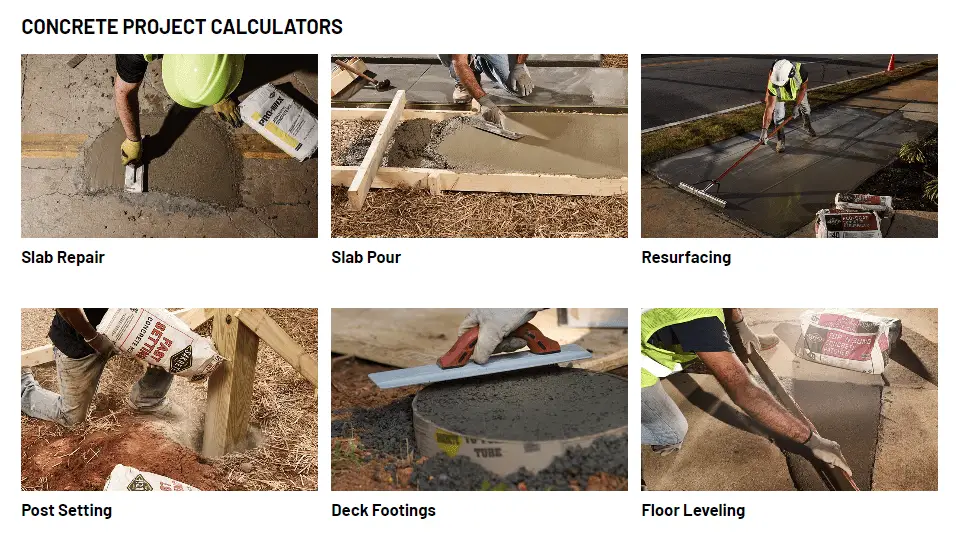 One of the best Sakrete/concrete calculators can be found on the official website of Sakrete itself. It is hard for any other online to measure a product better than the company that manufactures it.
In addition to the calculators, you can find some things related to the company.
You view their products, browse through the projects or just find the locations of stores nearby that sell Sakrete products.
There are a bunch of different concrete volume calculators on this website that you can use depending on your situation.
The slab pours volume calculator is the most used tool on this website.
The layout of this calculator is very simple and intuitive.
You only need to select the type of concrete you want to use and enter the dimensions of your project, the rest will be taken care of by the calculator.
Website design is something that Sakrete has focused on a lot. The black and yellow colors of the brand can be seen evenly used on the website.
The website is compact and to the point, and you won't find any unnecessary stuff on it.
Once you have selected your concrete type and entered all the dimensions, click the 'Calculate' button, and your results will be shown below.
The results will include the type of product and the number of bags (for each size) that you will need. You can share your results directly from the calculator by entering an email below.
Sakrete also has a very useful app that has all the features of this website. If you like using the website, you will definitely like this app.
2. Quikrete: Concrete Calculator
Quikrete is a company similar to Sakrete; it also makes cement and concrete products and is a well-reputed manufacturer. You can find out everything about Quickrete on their website.
All the products they have for homeowners, professionals, and dealers are listed in different sections.
As mentioned above for Sakerte, this website also helps you track down dealers and stores selling Quickrete products.
This calculator is a bit different from the one discussed above. Instead of entering the dimensions of the slab, you have to enter its area in square feet.
The design of the calculator is a little underwhelming.
There are no colors or flashy design elements, which makes it look kind of dull. But on the other hand, a basic design is something that a lot of users demand.
The design of the website is almost like the calculator's design. There isn't much color, and the fonts used are pretty simple. The only thing that stands out on the website is Quickrete's logo.
This might not be the best-looking website on this list, but it works flawlessly when it comes to practicality.
All the contents of the website can easily be accessed from the menu, and there are absolutely no glitches or errors on it.
Once you have entered the square feet of your required slab, click 'Calculate Total', and the number of bags required for a 4-inch and a 6-inch slab will be displayed below.
There are a few more calculators on this website related to concrete and construction that might interest you.
3. Lowe's: Concrete Slab Calculator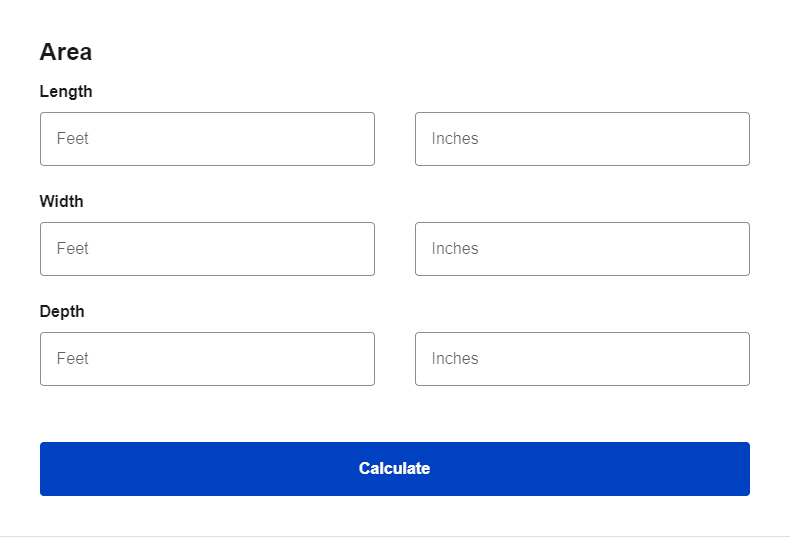 Lowe's is a North American-based company that provides a wide range of home services to its consumers.
The services that they provide include appliance installation, fencing, flooring, windows, and a lot more.
On top of having highly trained professionals, they also have comfortable and convenient payment plans that you can opt for your projects.
Lowe's is not necessarily a concrete company, but in their line of work, they certainly use a lot of it. That is why they have a concrete volume calculator on their website.
The interface of this calculator is pretty straightforward. It consists of input boxes where you need to enter the dimensions and an action button.
The dimensions of the slab/project should be entered in feet and inches in separate boxes.
The main drawback that you have with this calculator is the fixed units, but concrete projects are mostly measured in feet and inches so you'll be fine
The design that you see on the calculator is the same as that you will find on the website.
It is always preferable to have these two designs similar as they bring uniformity to the whole experience and make you comfortable with the operations.
All the information regarding Lowe's products, services, and plans is easily accessible from their website.
Once you have entered the values for all dimensions, click the button labeled 'Calculate', and your answers will be displayed below.
The results will have the total volume of concrete/Sakrete required, the number of 80 lbs for that volume, and the total labor hours for the project.
4. Sonotube: Volume Calculator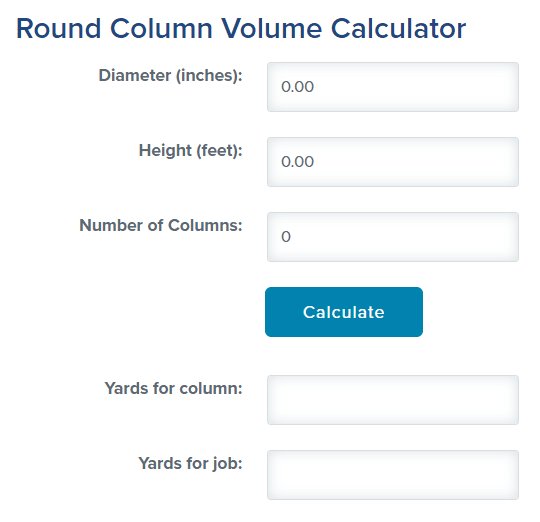 Sonotube is a construction company that manufactures cores, tubes, and fiber concrete columns.
They are a widely trusted organization and are also one of the largest producers of concrete columns.
Being in the business for more than 70 years and making high-quality products related to concrete and other material, Sonotube is bound to have a good concrete calculator.
The layout of this calculator is totally vertical, which is something a lot of users might prefer.
The rest of it is pretty much similar to the ones discussed above. You just have to enter the dimensions and count of your project as inputs.
Sakrete calculators are mostly simple due to the nature of their inputs, as you would have figured out by now.
Sonotube has a conventional website design. The website mostly consists of content related to their projects, products, and achievements.
Everything you need to know about the company can be found directly here.
Sonotube's website might not be the most innovative one, but it certainly delivers what it is supposed to.
Click the 'Calculate' button once you have entered the dimensions and the number of columns, the volume of Sakrete required will be displayed below.
Keep in mind that this calculator is designed to calculate concrete/Sakrete for columns, not slabs.
There are a few more construction tools and resources on this website that you might wanna check out in the 'Resources' section.
End Note:
You might not be able to find a lot of Sakrete calculators on the internet, but any efficient concrete volume can calculate the amount of Sakrete.
The only real Sakrete calculator is supported by Sakrete's official website.
You should always take an expert's advice when it comes to something as sensitive as construction, you shouldn't rely solely on these calculators.
Practical situations have a lot more factors needed to be accounted for than just some dimensions.
Each calculator mentioned above is more than capable of calculating Sakrete volume accurately. Make sure you find the one that fulfills the needs of your project.