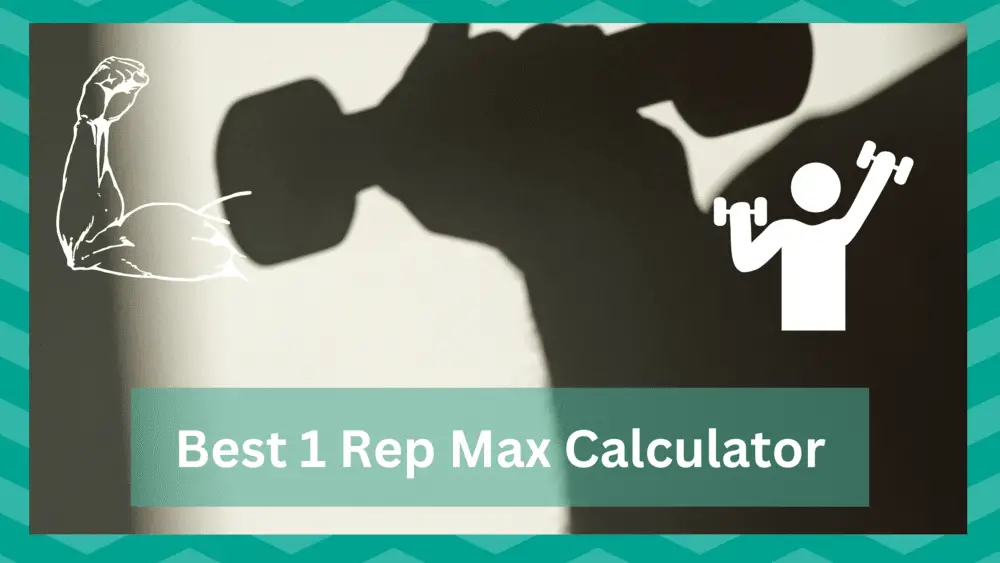 A 1 Rep Max calculator is an online tool that assists you in figuring out how much weight you can lift for one repetition for physical fitness.
It tells you about your strength and power based on the number of repetitions you can carry out.
Rep is the short form of 'repetitions' that allows you to keep a track of your strength. When you lift something and bring it back means that you have completed one rep.
You will also come across the term 1RM which means one repetition maximum.
1RM denotes the maximum amount of weight you can lift for one repetition. This helps calculate the weight for a workout. One rep is the execution of a single exercise.
For example, if you do three push-ups, then that means you did three reps of push-ups.
This calculator keeps a record of all the data you insert. The previous data helps the calculator estimate how much weight you can lift in the future based on the number of repetitions.
Different calculators use different formulas to estimate 1 Rep Max. There is no definite or universal formula for 1 Rep Max.
You will come across different well-known formulas like Brzycki, Epley, Lombardi, and O'Conner in these articles.
Going to the gym is a common way to exercise and keep yourself busy. In previous times, people had to hire fitness and gym experts on top of the gym routine they were following and paying for.
An extra person had to keep a check on his client and calculate the rep max for him.
Now there is no need to hire an expert and waste your money when you can achieve all of that with just a few clicks through your smartphone.
These calculators are useful and play a huge part in maintaining your weight and strength.
Stick to this article to know about some of the best 1 rep max calculators with various interfaces and formulas.
Best 1 Rep Max Calculators
1. Strength Level: 1 Rep Max Calculator
Strength level's calculator is an online free tool that is basic and easy to use. It offers you training session tutorials as well as provides you with fundamental guidelines for exercising.
It has standards that you can check out before deciding the number of reps you want to do.
The standards give you a rough estimate or an idea about how many reps in a certain exercise are suitable for your body.
Sometimes you do reps more than your body can endure and that ultimately harms your health.
The interface is clear with a royal blue theme and has a background gym image. The display is vibrant and attractive; it instantly captures your attention once you open the calculator.
It has the percentages of reps in tabular form. It is a huge table with prominent data inside.
For calculation, you have to insert the number of lifts and repetitions in the empty bars. You can select the unit according to your requirement.
Then press on 'calculate 1 Rep Max' and the answer will be displayed in front of you.
You can download the application of strength level calculator on your smartphone through the Google play store or apple store.
Having the calculator downloaded on your smartphone is convenient; you can use it anytime. You do not need a desktop or a laptop to use the calculator.
This calculator allows you to compare and rate other bodybuilders. It provides you with the number of reps of the best builders and lets you compare your reps with theirs.
This gives you an idea about your endurance and strength.
This calculator has an official email address where you can leave your questions, suggestions, or any improvements you would like to see in the calculator.
This calculator has social media existence on Facebook, Instagram, and Twitter. You can follow it there to receive the latest news and keep yourself updated.
2. Bodybuilding: 1 Rep Max Calculator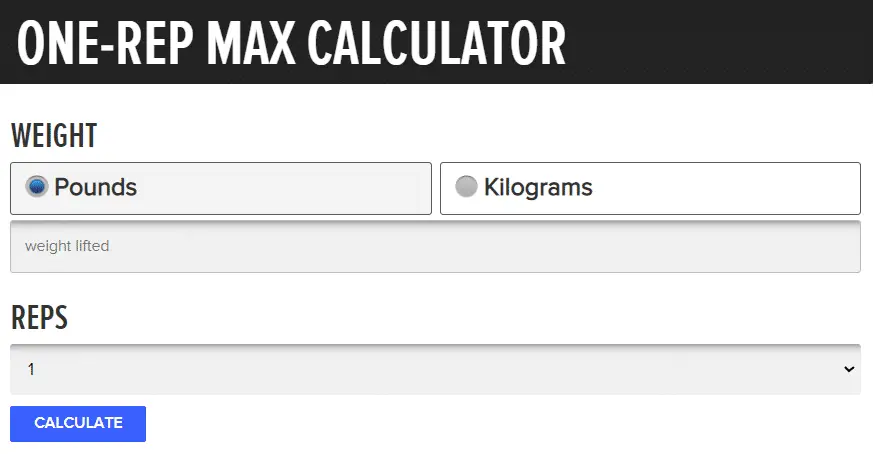 Bodybuilding's calculator is a constructive online tool that has a variety of functions. It does not just assist you to estimate the number of maximum reps you can do.
Rather, it helps you with keeping your body healthy, advises you to take nutritional diets, and provides you with a huge collection of articles.
The articles are relevant and informative. They have all the prime aspects enlisted and explained that are necessary for a healthy body.
If you are underweight or overweight then worry no more, because this calculator will guide you on which exercises to do and what is the average range.
The interface is mostly clear with a few pop-up cookies, but they do not come in between your reps' calculations. The font is massive in size. The overall display is basic and prominent.
For calculation, you first have to type in the exercise's name and select the units and the number of reps you are able to perform. Then click on 'calculate' and you will receive the final answer.
You can compare the percentage of your rep max with the standards provided in the table below.
This calculator has detailed guidelines that explain how to use the calculator, how to interpret and comprehend the calculations, what exercises to perform according to different body types, what diets to intake, and much more.
Bodybuilding's calculator has online programs that teach you how to increase your one-rep max strength.
If you are struggling and are confused about how to increase your 1 Rep Max strength then you should definitely consider taking these courses. They are detailed, graphic, and easy to understand.
This calculator has an online shop from where you can buy supplements to increase your strength. These products are healthy and organic.
The best part is that you get a 15% discount on all the products that you purchase through its website.
For getting the discount you have to sign up through your email address and become a member. Once you become a member you get a discount and free shipping.
This calculator has tutorials that you can watch to learn about the exercises and how to perform them. The tutorials are pre-recorded; you can watch them later.
They deliver you proper guidelines (from basic to complex rules).
This calculator is used all around the globe. You can select your location or country and the calculator will show you the online products that can be delivered in your region.
You can select the payment method (cash on delivery, bank transfer, etc.) which is feasible for you.
If you have any queries or you want to suggest something regarding the performance of the calculator then you can leave your comment at the bottom of the calculator (comment section).
You can write your email address and subscribe to the weekly newsletter. You will receive all the updates on weekly bases.
You can follow this calculator on Twitter, Facebook, Instagram, Pinterest, and YouTube. It has a large social media appearance, and you will get all the latest news and updates by following it.
3. NASM: 1 Rep Max Calculator

NASM's calculator is an online free tool that helps you calculate the maximum number of reps you can lift or perform.
It has a variety of programs, memberships, courses, and clubs that you can join according to your preference.
The interface is not clear as there are so many irrelevant advertisements that pop in between your calculations.
These advertisements distract you and affect your concentration level. The display is full of descriptions and pictures.
For calculation, you have to enter the weight and repetitions. Then press 'calculate 1 Rep Max' and the answer will show up in front of you.
This calculator does not offer you a variability of exercise options or unit options. It provides you with general calculations.
This calculator has a famous/well-known program that helps you build up your strength. The program promises definite results, so it is worth a try.
The program has a fee but it is easily affordable. The program is divided into multiple phases so it is easy for you to follow up.
If you have any confusion, query, or question; you can contact the team via live chat which is always active (24/7). The chat box is present at the left bottom of the calculator.
You will receive the answer/reply to your questions within a couple of seconds.
If you are considering hiring a personal trainer for yourself and have no idea where to start, then do not worry.
NASM's calculator has personal trainers who you can hire for your growth and guidance.
End Note
A few best 1 rep max calculators have been enlisted above with reviews, interfaces, and user feedback. You can try them by yourself and use the one that suits you the best.