The minutes to hours calculator is a very useful and handy tool that converts the number of minutes entered into the equivalent number of hours. Hours and minutes are two of the most used time measurements that we use in our everyday life like schools, offices, households, etc.
In today's fast-paced modern world the importance of schedules and keeping up with them has increased a lot.
We even have to keep track of seconds let alone minutes and hours but on the institutional and corporate level, the common units of time that are used during a day are minutes and hours.
Minutes to hours calculator can help you follow your schedule more accurately, there are certain situations in which we are given a deadline in minutes but to manage it in a better way we need the time hours.
Students can also use Minutes to hours calculator to solve the time problems that they are given in their homework and assignments.
There is a wide range of Minutes to hours calculators that you will find on the internet, and it sometimes it can be overwhelming and confusing.
This article has listed the absolute best Minutes to hours calculators, they have some differences between them, can go through this article and find the best minutes-to-hours calculator for yourself.
After going through this article, converting minutes to hours efficiently won't be a problem for you anymore.
Best Minutes to Hours Calculator
Calculator Soup: Minutes to Hours Converter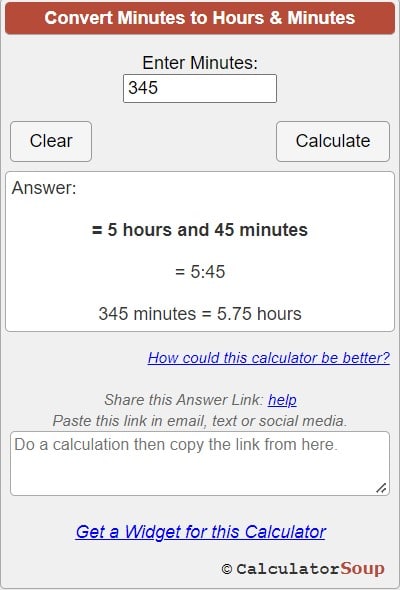 Calculator Soup is probably one of the most popular websites when it comes to calculators, they have the most variety in financial and math calculators but you can also find dozens of calculators related to sports, health, and conversions.
You can the minutes to hours calculator in the 'converter' section and it is safe to say that it is one of the best out there.
The interface of the calculator is pretty simple as it is for these types of calculators, there's a small section of the webpage dedicated to the calculator, which would have been more convenient if it was slightly bigger.
You are only required to input the minutes that you want to convert.
There are no errors or pop ups on the website and it works pretty smoothly, but the general design of the website is not that great.
The colors and fonts used on the website give it an outdated look, it looks like a low end website from 2008. There are also a few ads on the website which aren't that distracting but still put an overall negative impact.
Once you have entered the minutes that you want to convert, click 'Calculate' and you will have the number of hours in 3 formats; Hours and minutes, Hours in decimal, time format.
If you scroll down you can see the steps and formula for converting hours into minutes, with a few examples.
Omni Calculator: Minutes to Hours Converte

r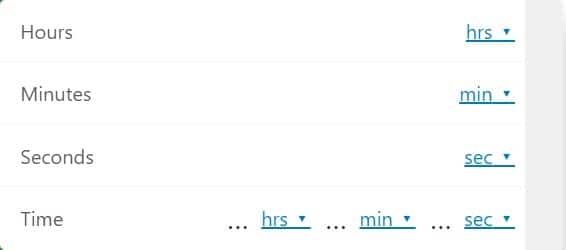 Omni Calculator is arguably one of the most used calculator website in the world, maybe its the wide range of calculators that it supports or the unique and colorful design that it has, but Omni Calculator is sure to have a really practical Minutes to Hours Converter.
Omni Calculator probably has the most variety of calculators out of any other platform on this list.
Omni Calculator's minutes to hours calculator has a really structured UI, like most of its other calculators.
You have the sections of Hours, Minutes, Seconds, and time. Just enter the minutes you want to convert in the 'minutes' section. If we compare to the rest of the calculators on this list, Omni Calculator wins in terms of calculator UI.
Omni Calculator is also one of the best designed websites on the list. If you have used Omni Calculator before you might have noticed that they have separate colors for separate types of calculators, for example, Math Calculators have a red color on their webpage, Physics has Purple and in this conversion calculators have Green. This is something quite unique to Omni Calculator.
Once you have entered the minutes in their assigned section, the rest of the sections will get filled up automatically, converting the minutes to their respective units.
You have a 'reload' at the bottom of the calculator which resets the values of the calculator and you can also share the results directly from the website.
Omni Calculator also has a mobile app that works just as fine, if you think mobile apps are more convenient you should check out the app as well.
Inch Calculator: Minutes to Hours Conversion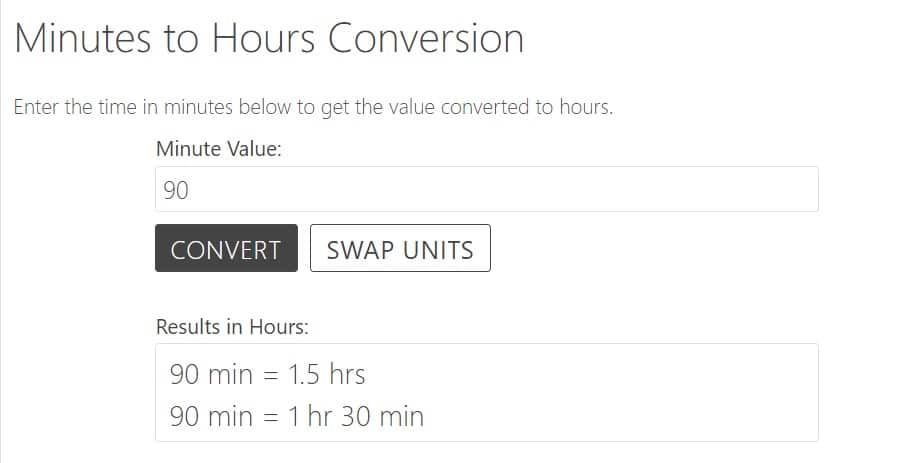 Just like the websites discussed above, Inch Calculator is also a popular calculator website homing hundreds of tools related to construction, math, gardening, conversions, health, etc.
Inch Calculator minutes to hours calculator needs to be on this list. You find this calculator in their conversions calculators section under 'time'.
This minutes to hours calculator has a different UI when compared to all other calculators on this list, but then again, all the calculators on this have unique interfaces.
As explained earlier for the rest of the calculators you only have to enter the number of minutes that you wish to convert.
You also have an option of 'Swap' which you can use if you want ot convert hours to minutes.
The website in general is pretty well built and you go through it pretty smoothly, although they could have done a better job with the colors. The colors on the website are quite dull and give the website a boring but kind of professional look.
There are a few ads on the website but they have been placed quite strategically, they won't disturb you while you are using the calculator but it's also hard to miss them.
Click 'CONVERT' once you have entered the minutes and you will get your results below in the Hours Decimal and Hours and Minutes format.
Just like calculator soup,  Inch Calculator has also explained the formula for the conversion of minutes to hours with examples, and if you scroll down even further you can find a chart with certain values of minutes and their corresponding values in hours.
Unit Converters: Convert Minutes to Hours

Unit Converters is probably the least popular site on this list but that does not at all make it less capable than any other website.
While all the websites that we have discussed so far are calculator websites that deal with all sorts of calculation tools, Unit Converters mainly focuses on conversion calculators and that is exactly what we need.
You will find this minutes to hours calculator in the time conversion section of the website, Unit Converters calculator has a very simple UI, you have only two white boxes labeled, 'To' and 'From'.
Minutes are in the 'Form' section where you have to input them and you have hours in the 'To'
section. You can use the swap button to interchange these sections.
Unit Converters' website is quite simple and basic but you still won't feel it is incomplete or outdated. Even though strong colors are used on the website the color scheme somehow works in this setting making the website seem fun and inviting.
There are very few ads on the website some placed just right next to the calculator which can be annoying for some users.
You will have your converted minutes in the 'To' section after you click 'Convert'. You also use the clear button to reset the calculator for the next conversion.
If you scroll down you can find some definitions related to the calculator and conversion table for 'minutes to hours'.
How to Convert Minutes to Hours
Converting a unit of time into another unit is a really simple concept but some individuals have a hard time getting a grasp on this concept.
If you are using the calculators that have been mentioned you probably won't need to understand this but it is still convenient to know the basic math behind it.
1 hour contains exactly 60 minutes, so in order to convert any number of minutes into hours you must divide them by 60, giving you the formula:
Number of Hours = Number of Minutes/60
End Note
Time conversion is something that we do the time in our everyday life, it is not something limited to official stuff or test papers. Keeping a track of time or measuring is part of being human and its importance can't be stressed enough.
All the calculators that have been mentioned above are very efficient and you won't face any problem at all if you for any one of them, but try to use the one that you feel most at home with.