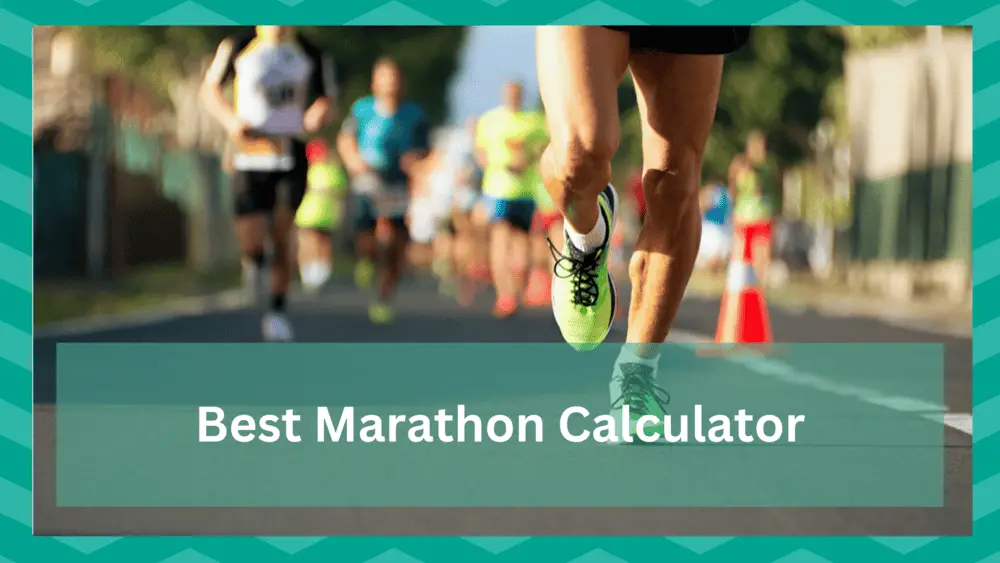 Marathon Calculator might be a tool that you probably haven't heard about much but it can prove to be a very useful tool for people who run marathons or are about to take part in one.
Marathon Calculator is used to calculate your average running speed for a marathon, this calculator helps you pace yourself in the best way possible for you to finish the marathon.
Marathon is the longest form of a foot race, the official length of a marathon route is 42.195 km, although there are some other races labeled as marathons that have a shorter length.
Marathon is a popular form of racing that is not only meant for professional runners but there are a lot of events where everyone can be a part of the marathon.
It is estimated that more than a million people finish marathon races every year.
Finding the perfect pace for yourself is the most important part of the marathon as you don't want to tire yourself way before the end, and you also don't have to be too slow as to run out of time, a Marathon Calculator will give you the best speed based on the distance and time of the marathon.
There are a bunch of calculators that you will find online but if you want to find the best marathon calculator, stick with this article.
In this article, some of the best marathon calculators have been listed that can be found on the internet.
A small but comprehensive review for each of them has been mentioned below, make sure you got through them thoroughly, and make the best choice for yourself.
Hopefully, after going through this article you will be able to calculate your running pace for a marathon pretty easily and efficiently.
Best Marathon Calculator
1. Active.com: Running Pace Calculator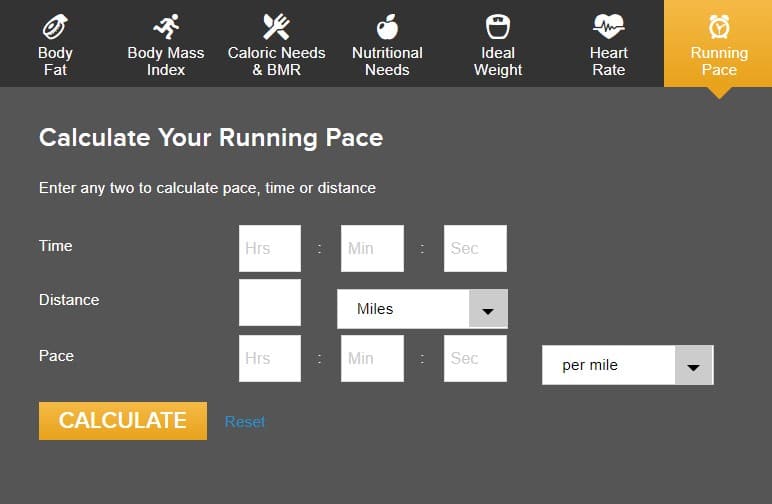 Active.com is all about sports and fitness, they have a whole section dedicated to running which includes races like 5K, 10K, Half Marathon, Marathon, and, Trail.
There are a lot of other sports and running formats on which you can find a lot of content on this website.
Marathon calculator is not the only calculator that they have, you can find a lot of tools and calculators in the Fitness and Health section.
The interface of the calculator is quite structured, you have the option to input 3 entries, time, speed, and distance.
As this calculator can not only be used for calculating pace but also time and distance, but there is less chance that anyone would use them for it.
Enter the time and distance of the marathon, and make sure that you have selected the units of distance carefully (between Miles and kilometer).  The rest of the calculators are located right above the calculator for easy access.
The website is build pretty well, they haven't used unique design techniques or a color scheme that actually works in the favor of the website, making it look like a safe and simple platform.
The ads might be a little too much as they make the website seem unorganized but won't interfere with your operations at all.
Once you have entered the time and distance of the marathon, click calculate and you will get your pace per mile. This pace means that this is the preferred amount of time you want to spend covering a mile or a kilometer.
If you scroll down you can find some reading material related to the marathon calculator and its uses.
2. Omni Calculator: Marathon Pace Calculator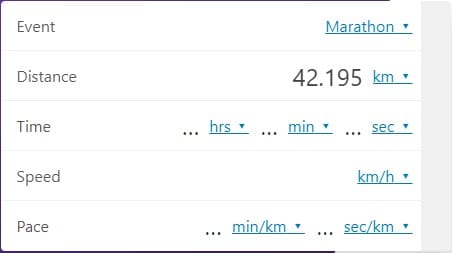 Omni Calculator is one of the most famous if not the most famous calculator websites out there, and if you are someone who uses online calculators regularly you would already know about Omni Calculator.
This website has a ton of calculators related to any field that you can imagine, including maths, science, fitness and a lot more.
You can find the 'Marathon Pace Calculator' in the sports section of the website.
If you have ever used any calculator supported by Omni Calculator, the design and UI of this calculator won't be anything new for you as most of the calculators on this website have the same interface, but even if you are new you won't face any problems as it is fairly simple.
Just enter the distance and time of the marathon in the input sections.
Omni Calculator is not only the best-designed website on this list but also out of all the calculator websites out there. They have a unique style with an abstract pattern in the background.
Another interesting thing about Omni Calculator is the color scheme, different classifications of calculators have different colors, like for sports calculators it is purple.
Once you have entered the distance and time of the marathon the calculator will automatically calculate the speed and pace.
You can also view the table of contents for this calculator, which includes different information about this calculator and marathons. Have a read if you would like some extra information.
3. Calculator.net: Pace Calculator
Just like Omni Calculator, Calculator.net is also a website that supports a range of calculators although it is not as famous as Omni, but that does not make it any less than the other calculators on this.
Calculator.net mainly focuses on math, financial, and fitness calculators but you can find other calculators on this website too.
The design of the calculator is really simple like the rest of the calculators on this list, marathon calculators are simple to use because of the nature of their inputs.
You just have to enter the distance and time of the marathon. You can also directly select the event and the calculator will automatically enter the distance.
One thing you might notice is that Calculator.net's calculator has a lot more technical look than all the other calculators that we have discussed.
The design of the website is also really nice, it is not too flashy and at the same time, it is not boring. You can feel the quality of the website is really good as you surf through it, there are absolutely no glitches or errors on the website.
There are a few ads but you probably won't even notice them. If you scroll down there is more detailed version of the calculator which you can use to calculate multipoint pace.
The difference Between Speed and Pace
The word pace has been used in this article a lot and you might be wondering how is it different from speed? Pace is a way to represent the speed with slightly different units.
Speed is represented as the distance covered in per unit of time whereas pace is represented as the time to cover a unit distance.
It's easy to keep a track of pace rather than speed, with the pace you know how much time you have to cover each mile or km, if the results are presented in speed it'll be hard to manage your speed.
You can calculate either speed or pace and convert them into each other by a simple mathematical step.
End Note
Marathon is a very popular foot racing format, it might not seem as athletic as the rest of the racing formats and some people might even find it boring but it is definitely a very tough race and is a really good test for a person's stamina. Marathons aren't just a competition, many marathons are organized for social events as well.
Marathons are a lengthy but quite immersive sport, they might not be the most action filled and spectated events but they stand for something far greater than that.
All of the marathon calculators that we have mentioned above are very useful and are in no particular order, each of them is more than capable of giving you accurate results on which you can rely.
Make sure you find the calculator which you are most comfortable with.