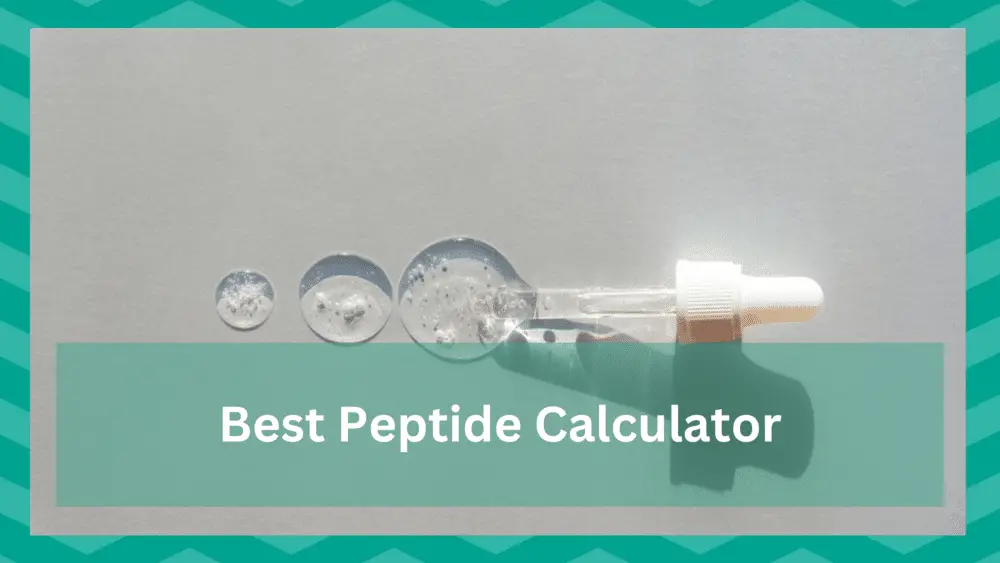 Peptide Calculator is a very specific tool that is used to calculate the mass of atoms in a peptide chain, this calculator is specifically calculated for chemistry professionals and students.
There is not much use for it in your everyday life as this calculator carries out calculations on a molecular basis.
You need to have sufficient knowledge about peptide bonds and amino acids before you start using this calculator, as there are chemical terms used in a Peptide Calculator.
Peptides are a form of amino acids that are linked by something called peptide bonds.
There are different classifications of bonds and chains of different types of acids, like tripeptides and dipeptides, a smaller chain of amino acids is an oligopeptide.
Peptides come under the umbrella of organic chemistry, and it isn't something that is taught in basic chemistry at a school level, so individuals using this calculator will already have some idea about advanced chemistry.
When dealing with such a technical and specific tool, you need to use the best of the best, as you want the results to be accurate and trustworthy.
If you are looking for the best Peptide Calculator, you have come to the right place, as there are a bunch of peptide calculators that you can find online.
It is hard to name an absolute best when it comes to calculators as each of them have different interfaces and designs, and the preferences vary from person to person.
This article will mention a few of the best calculators out there, together with their pros and cons, so you can decide the best one for yourself.
Calculating peptide mass is not an easy task when done manually, hopefully, after reading this article, you will be able to make an informed decision regarding the peptide calculator that you want to choose.
Best Peptide Calculator
1. Peptide Synthetics: Peptide Mass Calculator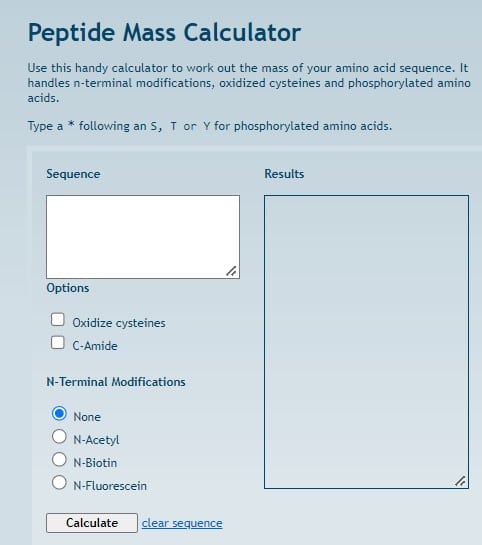 The websites that support peptide calculators are mostly chemistry related and there is a slim chance that you will find them in general calculator websites.
Peptide Synthetics, as you can already tell from the name, is a website dedicated to Peptides research, and you can find some really informative publications generated by them.
They provide custom peptide synthesis, and you can read about all their services in the peptide synthesis service.
The interface of Peptide Synthetics' peptide calculator is not a simple one, but it is fairly hard to come up with a simple design when dealing with such a complex calculation.
It is really well structured and for a person who has the right knowledge, it is not that complex.
There are 3 inputs that are required from you, the sequence, selecting the oxidize cysteines and C-Amide options, and choosing the N terminal modifications.
The design and UI of the website are pretty on point, the website is well composed and the fonts and colors used on the website seem professional but not boring at all.
One thing that seems a bit off is that the desktop version of the website has a page much smaller than the whole window, which not only makes it look odd but also makes the calculator a bit small.
Once you have entered all the details, click calculate and the results will be shown in the big box on the left side of the calculator.
Feel free to surf through the website if you are someone who works with peptides there is a chance that you will find a lot more helpful stuff related to peptides.
2. Bachem: Peptide Calculator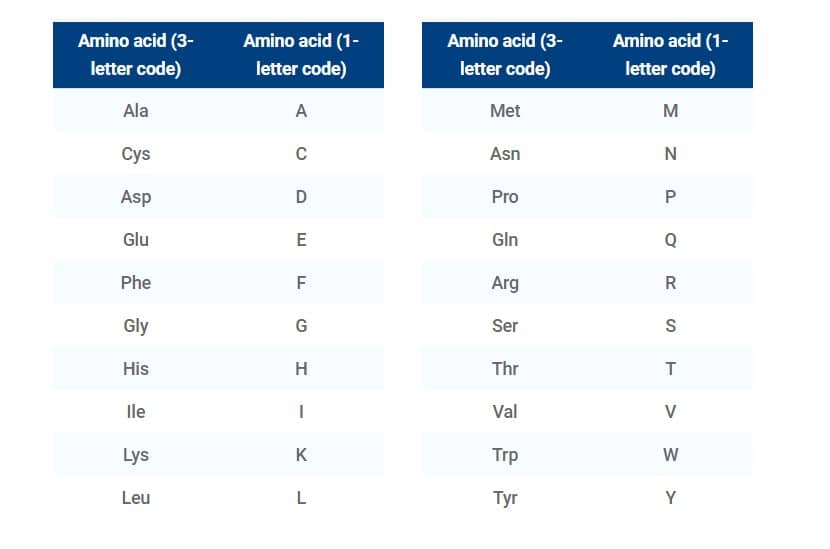 Bachem is a company just like Peptide Synthetics, they develop, research, and manufacture peptides for pharmaceutical and biotech companies, and they are one of the leading companies in doing so.
You can view their services and products from the website which contains; CMC Development, Commercial API, and a lot more.
Bachem is a popular and well-rupted peptide development company and they are bound to have a really great peptide calculator.
Although Bachem and Peptide Synthetics are two very similar websites, the UI of Bachem seems a lot more convenient than Peptide Synthetics. You have to enter all the inputs one by one.
First, the calculator asks you to enter the type of your sequence input once you have selected that you are redirected to the calculator where you have to enter your sequence and all the other details.
The design of Bachem's website is probably the best one on this list and provides the user with a good setting when they are using the calculator.
From the subtle colorful theme to the size changing logo as you scroll down the page, all of it translates to a great user experience.
Once you have entered all the inputs click calculate and you will be presented with the answers below, the representation of results is quite detailed and also kind of scientific in a way.
Above the calculator you can find some information regarding peptides and the functions of the Bachem Peptide Calculator.
Bachem can be a safe choice for individuals who don't want to spend a lot of time in the search of a calculator.
3. Colby.edu: Peptide Mass Finder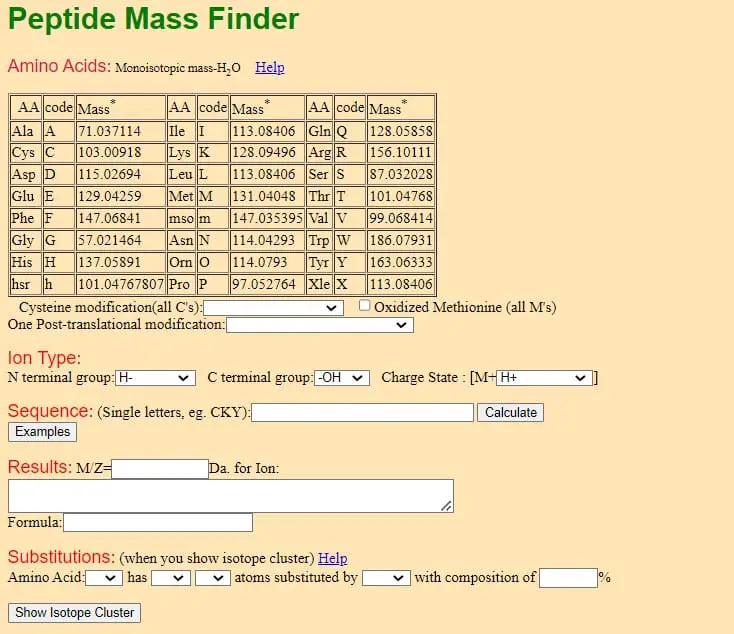 Colby is a US based liberal arts university with dozens of courses, as the university is actually based on liberal arts there are limited choices when it comes to science-related courses, but luckily they offer 3 chemistry and due to that you can find a peptide calculator on their website.
The link from the search engine will take you directly to the calculator page and not the university website itself.
The design of Colby.edu's Peptide Mass Finder is not the best one on the list, from a practical point of view the UI is not that structured, and at first glance, the calculator seems mismanaged and congested.
Which is not only a negative aspect practically but also visually.
An odd yellow color has been chosen for the entire webpage including the calculator which further worsens the looks of the calculator.
There is much to discuss the design of the website because there isn't much design, although the calculator is part of the webpage of the university's website, there is no way to access the rest of the website from the calculator and it seems like an independent webpage.
The only thing in addition to the calculator on the website is a table that provides you with the code and mass of different amino acids.
Once you are done with all the inputs, click 'Calculate' and you will get the mass and formula of the peptide in the results below. There is an option labeled 'Show Isotope Cluster' which you can also use.
4. Innovagen: Peptide property calculator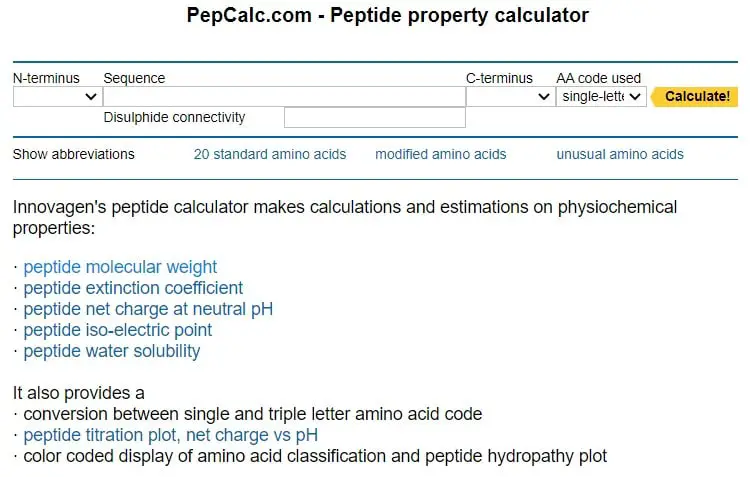 Innovagen is a research and development company that focuses on antibodies, proteins, and peptide development.
They are not as big as other peptide research companies discussed on this list, but that does not make their Peptide Calculator any less. Their main products include Primary Antibodies and Synthetic Peptides.
You can find the Peptide property calculator in the 'tools' section of the website.
There isn't much to the design of Innovagen's Peptide property calculator, and it really isn't designed as a calculator. You just have a single bar of inputs where you enter the details of the peptide that you want to calculate.
This peptide calculator gives you the following physiochemical properties; peptide molecular weight, peptide extinction coefficient, peptide net charge at neutral pH, peptide iso-electric point and peptide water solubility.
As stated earlier, design of Bchem's website is the best on this but, Innovagen is a close second.
One thing that Innovagen has done even better than Bachem when it comes to design is the background of the website, which has a lot of chemical and scientific elements to it.
Once you have entered all the inputs, a new window of results will pop up after you click 'calculate', the results are represented in a very detailed and organized manner.
End Note
Peptide Calculator is a very technical tool that has a limited user base, but that also makes those users to have high expectations from these calculators.
Calculating peptide chain mass is quite important in organic chemistry, and all the calculators mentioned above perform better than all the expectations.
All calculators mentioned in this article are really efficient and totally capable of providing you with accurate and quick answers. Their interfaces and website differ a lot, and you just need to find the one that covers all of your requirements.