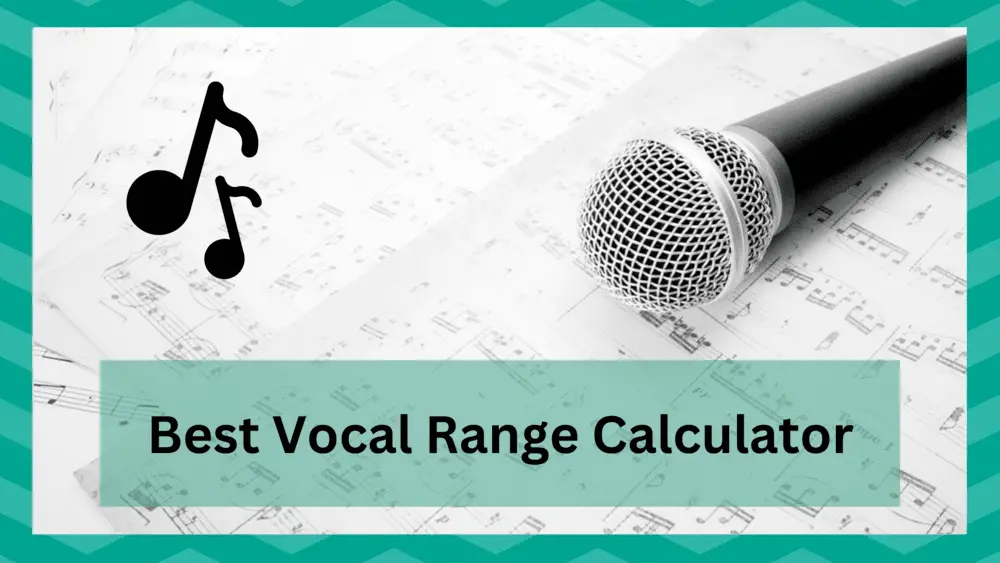 Vocal range calculator is a sonic tool that allows you to determine your vocal range based on your highest and lowest notes. All the notes that come in between these extreme notes can be sung by you.
There are six types of vocal ranges and you can use a calculator to find yours
Vocal range is a very important component of singing as it allows you to understand the type of songs that you can sing.
Knowing the style of your singing will allow you to sing the songs comfortably without tearing or straining your voice.
Vocal ranges are further classified into male and female ranges and there is a name assigned to each one of them.
For example; a high female vocal range from B3 to G6 is known as Soprano a low male vocal range from D2 to E4 is known as Bass and so on.
There are a few tools that you can find online to determine your vocal range. These aren't necessarily calculators but can be used as a substitute for a vocal range calculator.
In this article, some of the best vocal range calculators have been listed. A small review of each of them has also been mentioned below, highlighting their best and worst features.
Go through each one of them thoroughly so you can find the best vocal range calculator for yourself.
Hopefully, once you are done with this article you will have a better understanding of your vocal range and your singing style.
Best Vocal Range Calculator
1. Omni Calculator: Vocal Range Calculator
Omni Calculator is one of the most used calculator websites out there. It probably has the largest collection of tools and calculators out of all the websites on this list.
You can find hundreds of calculators related to all sorts of subjects, including ecology, conversion, finance, sports, chemistry, and a lot more. The vocal range calculator can be found in the 'Other' section.
The UI of all the calculators on this website is generally the same. If you have used this website before you will notice the uniformity in the website from a practical point of view.
To calculate your vocal range you will have to enter your lowest note and your highest note.
You don't have to type in the notes manually, the notes can be selected from the drop-down menus on the input sections.
The design of both the calculator and the website is really great. The calculator is well structured and all the inputs and functionalities are pretty straightforward.
The website has an abstract aesthetic touch in the background. The color of the background changes depending on what type of calculator you are using.
For example; for physics its purple, for biology it is blue for health it is green.
This calculator also has an advanced mode that adds a lot more inputs to the interface, like bass, baritone, tenor, etc.
Once you are done with all the inputs, your vocal range and voice type will be shown below automatically.
You can also read through some extra details on this page regarding vocal range and how it is calculated.
2. Tone Gym: Vocal Range Test
Tone Gym is an online platform that gives you access to sound and musical tools that you can use to understand and study sound theory. Alongside the tools, there are also a few courses and videos that you can go through to better understand it all.
Tone Gym has a very interactive and helpful community. You can ask for help and advice from hundreds of Tone Gym users in the 'Community section'.
This calculator is totally different from the one discussed above. It would be more appropriate to refer it to as a test rather than a calculator. You don't need to type in any inputs, the input that Tone Gym needs is your voice.
You will have to sing your highest note for the first input and your lowest note for the second input and make sure you sing these notes for 3 seconds.
The website has a really calm and professional look. Most of it is filled with black which is an odd choice for a website related to music but the whole look cleans up really well.
All the services and products of Tone Gym can easily be accessed from the header and the website gives you a smooth experience in general.
Once you have recorded both your notes, click on 'See results' and you will get your vocal range. If you scroll down you can see the vocal ranges of some famous singers.
You can compare yours and see where you stand with some of the greatest artists.
3. Singing Carrots: Find Your Vocal Range
The main focus of Singing Carrots is to allow its users access to a platform where they can practice singing.
The tools that are available on the website include; a vocal range test, pitch accuracy test, vocal pitch monitor, and spectrogram.
There is a bunch of reading material on this website regarding singing theory which you can also check out.
This is a really interactive tool as you are guided through each step of the procedure. This tool also barely qualifies as a calculator because it uses the same type of inputs as Gym Tone.
First, you have to maintain a single tone for a few seconds and then go from your lowest tone to your highest tone.
The tool will record the highest and lowest note you hit while recording and display them just below the piano.
A piano animation right below the calculator corresponds to the tone you are singing. This can be seen as an extra feature but some users might also find it a little immature.
The design of the website is fairly simple. The header and menu allow you to access most of the contents of the website.
You can load up the vocal range calculator from anywhere on the website as it can be accessed from the top of the website.
The ads can be annoying as there is a noticeable amount of them on Singing Carrots and they also compromise its look.
To get full access to this platform you need to get a paid account.
Which Calculator is the Best?
As you probably know by now, there aren't many viable options when it comes to vocal range calculators. But the ones that have been mentioned above are really adequate and ensure accurate results.
With all the differences that these calculators have, we need to ask which calculator is the best one out of these three.
It is hard to name one calculator as the best one because the preferences and requirements vary from user to user.
If you don't want to use your voice as an input Omni Calculator will be the best option for you as you only write down your highest and lowest note.
If you already know your notes you can simply type them in the input sections and get your results.
Omni Calculator's advanced mode allows you to go into the details as well if that is what you are looking for.
Tone Gym and Singing carrots are good options for users who want to determine their vocal range by recording their voice in real-time.
The difference between these two is that Singing Carrots records your voice constantly and gives you the lowest or highest note you hit, while Tone Gym only records your voice for 3 seconds for each input.
The UI and Design of these calculators are entirely different. Singing Carrots gives you a fun and colorful design whereas, Tone Gym has a more professional UI.
As stated earlier, the choice of the best vocal range calculator comes down to the person using it and their requirements.
End Note:
If you are a singer or just someone who likes singing and wants to improve, a vocal range calculator can prove to be a very beneficial tool for you.
There are enough options available that you can find a calculator that caters to all your needs.
Vocal range is a very important component in singing as it defines all the important aspects of your signing style.
All the calculators mentioned in this article are more than adequate and you can trust them blindly. Just make sure you find the one that feels most comfortable.