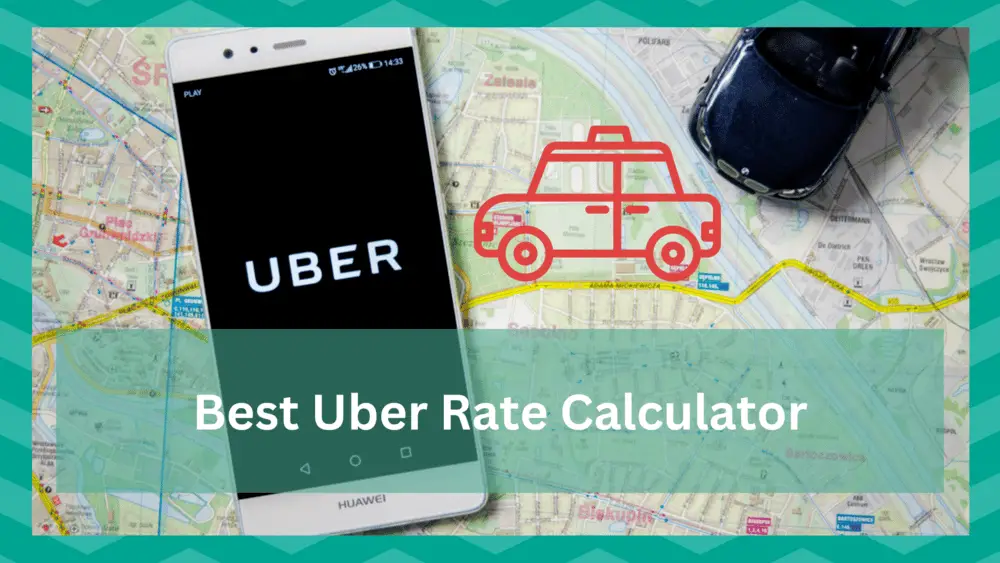 An Uber Rate calculator is a tool that is used to estimate the price of an Uber ride from point A to point B before you request an Uber.
An Uber Rate Calculator is a great tool if you want to budget your trip or just to see if calling an Uber is worth it.
Online taxi services have taken everyone by storm, just a decade ago taxis and other local transports were the way to go, you had to call one out from the road, whether it was New York or a small town in Asia.
Online taxis like Uber have made public transport a lot easier, these are trusted, well-managed and accountable rides that can be used by anyone, furthermore, you can call them at your location.
They might be really convenient but they aren't free, an Uber Rate Calculator will allow you to compare the rate of Uber to other services so you can make a better decision.
If you are someone who uses Uber regularly then this article is going to help you a lot.
There are a few apps and websites that let you calculate the Uber Rate, but you need to find the right one if you are going to use Uber regularly.
In this article, some of the best Uber Rate Calculators are mentioned so you can read through them in minimum time.
A small summary of each calculator has been given below highlighting their pros and cons, so you can find the best Uber Rate Calculator for yourself.
An Uber Rate Calculator is not a conventional calculator and it is something that is not widely used so it is a little hard to find them online and screen out the best ones.
After reading this article you will have enough calculators that at least you'll be able to pin down the best one for yourself.
Some Of The Best Uber Rate Calculators Worth Checking Out
1. Uber: Uber Price Estimator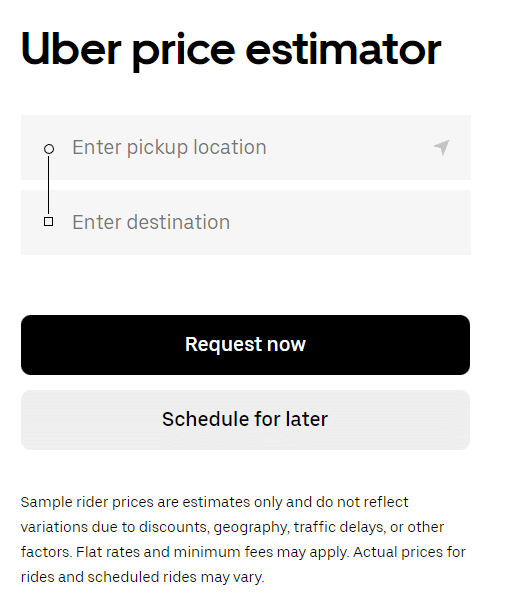 You would expect all the practical Uber Fare Calculators would be found on third-party websites and apps which have multiple tools but one of the best fare calculators can be found on the official Uber website itself.
It's hard to be more accurate about the fare of an Uber ride than Uber itself.
You can find a lot of information regarding Uber on this website, about their operations, services, mission, and a lot more.
You would expect a top-notch calculator design from Uber and fortunately, it is exactly like your expectations, but on the other hand, there isn't much to the calculator.
You only have two input boxes, one for the pickup location and one for the drop-off, and two action buttons.
The calculator is designed exactly like the rest of the website and the Uber app.
The design of the app is really simple, you only see the use of black and white on the website, but still the website looks great.
Their office font has been used throughout the website, the same font which can also be seen on their app.
There aren't many design elements and colors on the website yet it looks fun and professional at the same time.
Once you enter both your pick-up and drop-off locations, the estimated amount of your trip will be mentioned below, and if you scroll down you can see both locations marked on the map as well.
You also have the option to book the ride directly from there.
2. Uber Fare Founder: Estimate Your Uber Ride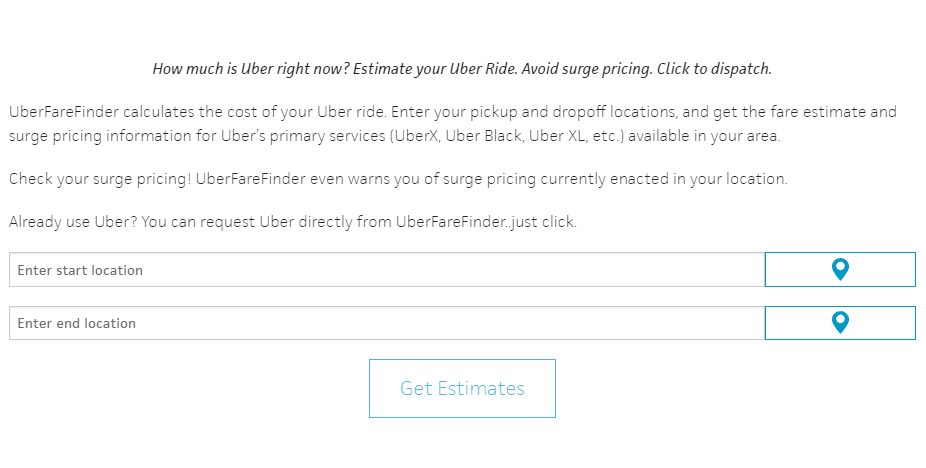 It is actually hard to find an Uber Rate Calculator better than the one on their original website, as the rest of the calculators are a downgrade from the official one.
They have the same UI and inputs but aren't designed as well as the first one.
That does not mean that they are not that practical, all the calculators on this list are more than capable of providing the right answers, Uber Fare Founder is one of these calculators. 
You can probably tell from its name that this website is totally dedicated to estimating the Uber Rate, and that is the only thing that'll you'll find on this website.
There is a link to an external website in the menu that you can use to compare the prices of different companies, which can be useful for some users.
The website is pretty low end and you can clearly tell that from the design and UI of the website. It's actually not even a website but a webpage that gives you access to the Uber Rate Calculator.
There are a lot of ads on the website and the placement of these ads is totally mismanaged, which gives the whole website a congested look.
Once you have entered both locations, click 'Get Estimates' and you will get the price for your ride together with the total distance of the journey and the time that it'll take.
If you like these extra details with your rate, you might want to consider Uber Fare Founder.
3. Uber Estimate: Uber Fare Estimate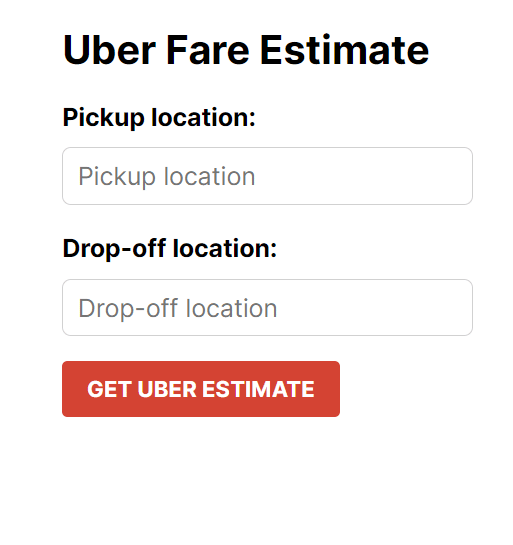 There aren't many websites that you'll find which calculate Uber Rate and can also provide you with other calculators and tools, most of the websites are totally dedicated to Uber and nothing else.
Uber Estimate as you can again tell from the name, is a website that does exactly that.
You can get some information related to Uber as well like whether Uber operates in your city or Uber Promo codes, etc.
The inputs of the calculator are similar to the ones that we discussed above, you just have to enter two locations (pick up and drop off).
The design of Uber Estimate's Uber Rate Calculator is quite similar to the official Uber website. The colors are the same, and the UI is almost similar although Uber does a little better.
Even though the design of the website is similar to the official Uber website, an individual who doesn't know any better might just mistake this website for the official one.
There aren't any glitches in the website and you can surf through it smoothly without running into any errors.
Although there are a lot of ads on the website which is a common problem among these websites, they bring down the whole look of the website and also affect the user experience.
Once you have entered the inputs click 'Get Uber Estimates', the page will refresh and you will have your results.
The results are represented in an unorganized way and you might face a little difficulty reading them.
4. Taxi How Much: Estimate Your Taxi Fare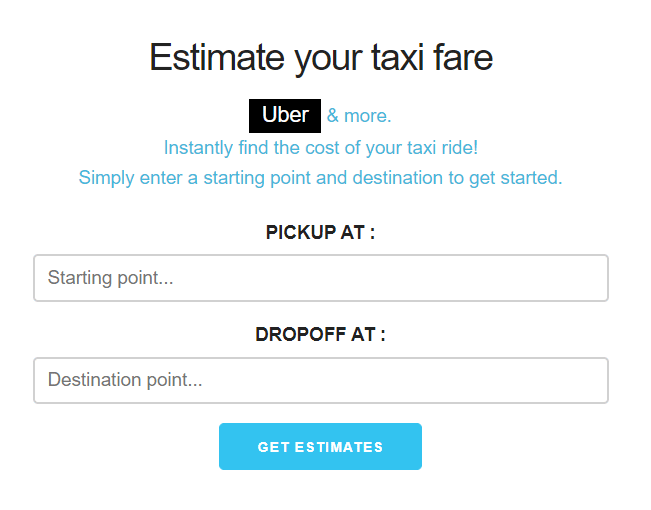 There is a reason this website has been placed at the end of this list, Taxi How Much isn't really a credible website but it is still a lot better than most of the Uber Rate Calculator websites out there.
This website claims to have calculators that estimate fares other than Uber, but once you start looking for them on the website, they are nowhere to be found.
The calculator is pretty similar to the ones that have been discussed above, you just have to enter a starting point and a destination point, to get an estimation of your fare.
It is best to see these calculators as estimators, as the rate of an uber can depend on a lot of things.
Apart from the input and the action button, there isn't really much in the calculator. You might find the design of the Taxi How Much calculator a little bit different.
The design of the website is almost non-existent, you can see the light blue color is used on the logo and some of the buttons, but that is it.
All the content on the website is totally mismanaged and the huge amount of advertisements worsens the situation.
Just like the rest of the calculators, once you are done with your locations, click the action button and you will get your results below.
End Note
Uber Rate Calculator can prove to be not only an important but even essential tool for people who use Uber daily, even if you're not using it daily, budgeting your rides can't really hurt.
Just make sure you enter the pickup and drop-off location with as much accuracy as possible so you can get a precise result.
Go through each of the calculators thoroughly and try them all out, you never know what subtle detail you might find attractive.