A food nutrition calculator allows you to calculate all the nutritional elements in a meal or separate food item.
You might read nutritional facts on the back of the packaging of any food item that you buy from the store.
A food nutrition calculator takes into consideration all the nutritional facts that your food has.
In most food nutrition calculators you don't have to enter the values of nutrients manually. The calculator will automatically add them up based on the food item you enter.
The advantages of using a food nutrition calculator are unlimited.
Everyone in their life has tried to eat a balanced diet at least once, but we never know how much fat, protein, sugar, etc we are consuming. That makes the whole process ineffective.
With a food nutrition calculator, you know exactly how much you're consuming. For whatever body transformation you are going through, a food nutrition calculator is almost essential for it.
For a better quality of life eating the right stuff is necessary.
The food we consume not only affects our physical health but also our mental health and our mood. Food nutrition can bring a lot of positivity to your life.
If you start searching for a food nutrition calculator, you'll see that are a lot of websites that provide these calculators.
But, you are here to find the best food nutrition calculator, and this article is going to help you do exactly that.
Besides, there are a lot of calculators that just give you the nutritional facts about food times and not total calculations.
This article will discuss some of the best food nutrition calculators that you can find on the internet a small review of each of them will be given below so you can make the best decision for yourself.
Hopefully, the calculators mentioned below will help you a lot with your dietary preferences and help you eat better food.
Best Food Nutrition Calculators
1. Nourish by WebMD: Food Calculator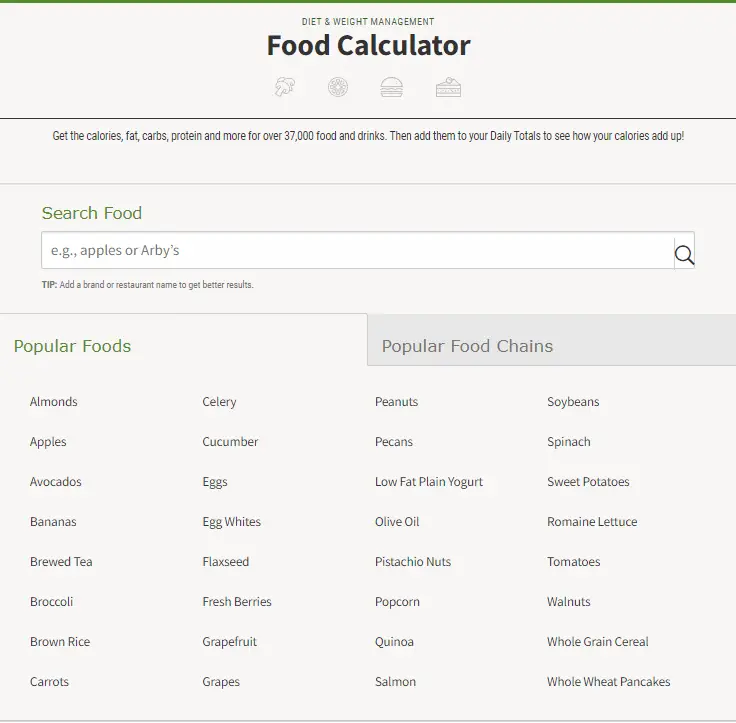 WebMD is a widely used online medical portal, they have a wide array of really practical medical calculators belonging to different areas of medicine, like cardiology, nourishment, growth, and a lot more.
Nourish is a branch of WebMD that deals with Nutrition and their Food Calculator is a really great Food Nutrition Calculator.
You can find a lot more content other than calculators on Nourish, there are health and fitness guides, blogs on diet, and a lot more.
The interface of this calculator is pretty simple, you can search for your food item in the search bar given in the calculator section, and you can even search for a brand or restaurant if you want.
Popular foods and brands are already listed below, you can directly select the items from there if they apply to you.
Select a food, enter the serving size and click 'Add to my totals', once you have added all the items that you wanted to add.
You would expect a really good website design from Nourish, as it is supported by WebMD. Well, Nourish delivers exactly according to expectations, giving a simple, practical, and good-looking design.
First that you'll notice about the design is the clever use of their brand color, which is green, which has been used subtly throughout the website.
You can easily find your way through the website and its contents.
Once you have added all the food items to the calculator, click the action button. That way, you'll get the Calories, Fat, and Carbs for your meal. You can also view the detailed nutrition facts if you want.
2. Calorie Control: Food Calorie Calculator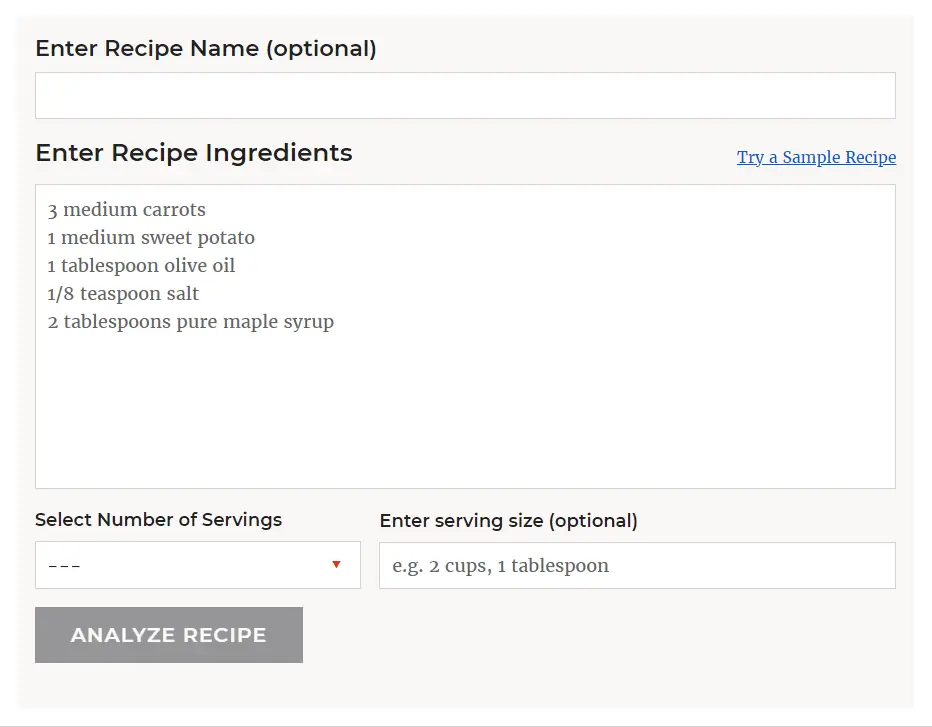 You might think just by reading the name of the website or the calculator that this tool only calculates Calories, but that is not the case.
Even though Calorie Control is a website dedicated to the awareness of calorie consumption, it calculates all major nutrients for you.
You can find a lot of content related to calories, diabetes, and sweeteners on this website, feel free to explore.
The UI of this calculator is almost similar to the one that we have discussed above, you search for your items in a search and select them.
Most online Food Nutrition Calculators use a search bar as it is the most efficient way of entering the details.
Make sure you enter the quantities of the item correctly before you calculate the sum of nutrients.
The nutrient values are totally accurate as they are taken from USDA National Nutrient Database.
The design of both the calculator and the website is pretty great and similar, which brings uniformity to the whole experience.
The design of the website isn't that simple as it has a decent amount of colors and design elements.
Total nutrients will be shown below automatically, your selection will be added to the subtotal as soon as you add it to the list.
The search bar is really easy to use and has a wide range of options. If you want a detailed calculator, Calorie Control can be a good choice for you.
3. Very Well Fit: Recipe Nutrition Calculator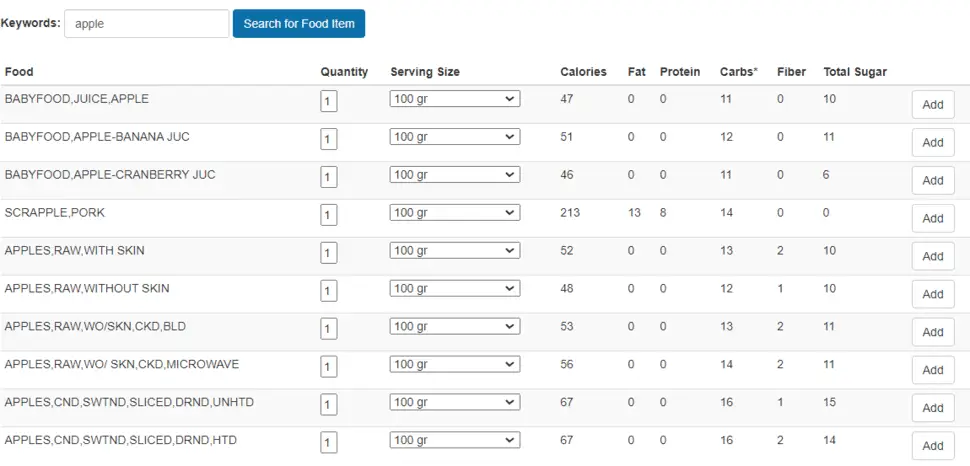 Very Well Fit can't be qualified as a health website but it's more of a cooking and kitchen website, although they have a lot of focus on healthy eating and dieting.
You can find topics on cooking, take dining out advice and also search for different recipes on this website.
But with that, they also have a tools section that supports tools like a nutrition calculator, weight loss calorie calculator, BMI calculator, and a few more.
This food nutrition calculator works a little differently than the ones discussed above.
In this calculator, you don't add all the stuff one by one rather you write down the recipe for a meal and let the calculator work with that.
This can be an adequate calculator for home-cooked meals as you have all the knowledge about the recipe.
The design and UI of the calculator are also pretty good and straightforward forward if you face any problems working with this calculator.
The design of the rest of the website is also pretty great, the quality of text and colors is pretty on point. The website is well-managed and clean.
All the contents of the website are easily accessible from the menu and the website runs smoothly in general.
Once you have entered the ingredients click analyze recipe and you'll the calories at the very top, if you scroll down you can read the full nutritional facts of your recipe.
All the instructions for using the calculator are mentioned just above the calculator.
4. Happy Forks: Recipe Analyzed
You might not have heard about Happy Forks a lot as it is not a very well-known website and it's hard to qualify it as a great website because it has a lot of flaws.
But it has a really well-functioning Food nutrition calculator and for the sake of this topic, that is all that matters.
You can find cooking hacks, recipes, tools, and a lot more stuff related to food on this website. It even allows you to enter your personal information so you have a better experience with the website.
End Note
A food nutrition calculator can be an immensely useful tool, you can not only use it for planning your diet. But you can also use it in your daily life just to see the nutrients that you consume.
You don't always need a personal trainer or a nutritionist to tell you what kind of food you should consume based on the nutrients.
All the calculators mentioned above are adequate for your use. You'll be fine if you go with anyone of them. Just go through each one and try to find the option that best fulfills your requirements.