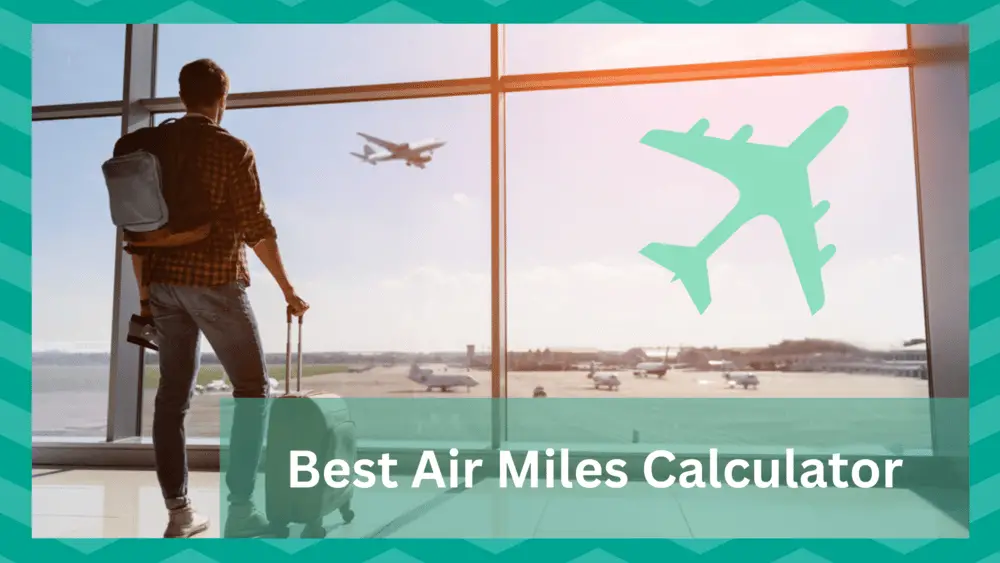 An air miles calculator is a distance calculating tool which determines the total distance of an air route in miles or nautical miles.
A nautical mile is a unit of length that is used mainly in marine, space, and air navigation. To give you an idea, one nautical mile is equal to 1.852 km.
An air miles calculator is mostly used to find out the distance traveled by an aircraft from one location to another (mostly a commercial airplane).
These locations are mostly the departure and arrival airports.
Most of the distance calculators that you find online only take the names of airports as inputs, so it's a good idea to stick with them as the airports are the most practical locations for an air route.
Before you start using these calculators, you must be aware of the official codes and names of the airports that you are interested in.
If you don't have the right information regarding the airport, you can run into some problems with the calculations.
There aren't many air miles calculators that you can find online. These tools are already rare, and finding totally adequate ones is a time taking task.
To save yourself all that time, you can just read the details given below in this article.
The best calculators for this category have been mentioned below. A small but informative review of each one of them has been given below, highlighting their noteworthy features.
Go through each of them to find the best air miles calculator for yourself.
Hopefully, this article will allow you to calculate air mileage accurately and also provide you with some information regarding aviation along the way.
What Is The Best Air Miles Calculator?
1. Airmilescalculator: Flight Distance Calculator

Airmilescalculator, as you can tell from its name, is a website that supports a really efficient calculator for air miles.
This platform is totally focused on calculating air miles, as the miles calculator is the only tool on this website.
There is a list of airlines that can be used to find information on different airlines, like their IATA code, ICAO code, call sign, and a few more details.
The calculator is designed to be as simple as possible to operate. All the inputs and functions of this calculator are quite straightforward.
You will only need to enter two inputs, the airport from where you will be departing and the airport at which you will arrive.
You won't face any difficulty finding your airports as they have all the registered airports in their databases, and your desired airport will show up in suggestions as soon as you start writing it.
In addition to the miles calculator, there are two more sections in the calculator that you can use to search airports and airlines.
Airmilescalculator doesn't have a lot of pages which is why the design of the rest of the website is pretty basic.
There are a few ads that you can see around the calculator, but they won't interfere with your operations.
Once you have entered the name of both airports, click the  'Calculate Distance' button. The result will be displayed just below the calculator, which will include distance in miles, kilometers, and nautical miles.
2. Singapore Airlines: Miles Calculator

Singapore Airlines is one of the largest and most highly-rated airlines in the world. They have been in the airline business for more than 50 years and are considered to be a very successful company.
There is a lot of stuff you can find on their website regarding their routes, prices, timings, etc. Fortunately, this website also has a miles calculator.
This airline operates in more than 130 destinations worldwide, and its calculator has to be the most trustworthy tool on this list.
The main purpose of having this calculator on the website is to allow customers to calculate how many miles they have earned traveling with Singapore Airlines.
But it can also be used to find distances between two airports.
The UI of the calculator is well-structured and goes well with the rest of the website. You just need to enter the locations of your departure and arrival.
Keep in mind that this calculator can only show the airports where Singapore Airlines operates. If your destination or origin doesn't fall under that, you will have to use a different calculator.
You don't expect anything less than a perfect design from a company as big as Singapore Airlines.
They have a very simple yet professional interface for their website. Everything on the website is well-managed, clear, and composed.
Once you are done with the inputs, select whether you want to calculate the one-way distance or return distance.
After you have made your selection, click 'Calculate', and the 'miles flown' will be displayed below.
3. Air Plane Manager: Flight Time and Distance Calculator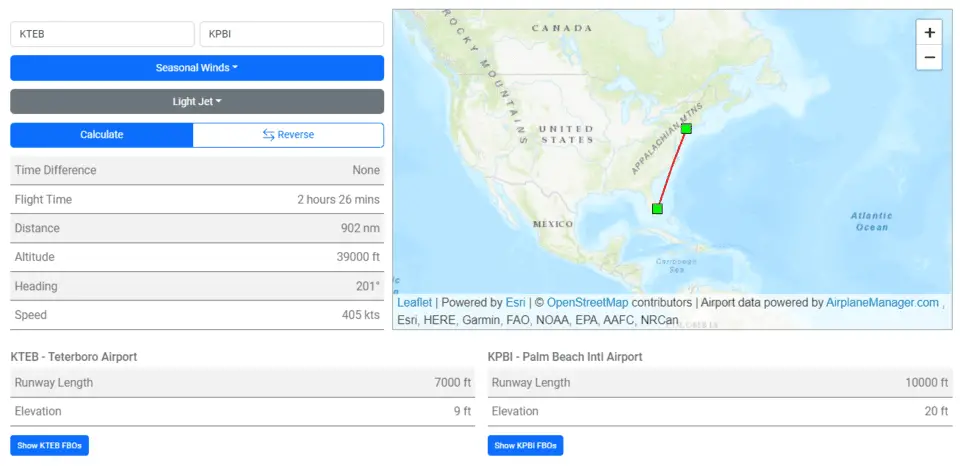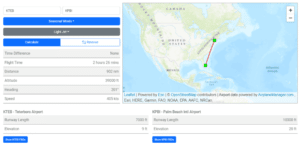 Air Plane Manager is a company that develops and sells aviation management software. The main focus of their software is to provide aircraft and airplane schedules.
Air Plane Manager is a website for very specific users, and if you are not interested in corporate and charter aircraft scheduling, you won't find much use for this platform apart from its calculator.
The interface of this calculator might seem a little overwhelming when you first look at it.
It seems a bit too technical due to the number of options and the nature of its design, but it is actually pretty simple.
Just like the calculators discussed above, you need to input the names/codes of the airports/locations on both sides.
You can make random selections for other inputs, as they won't affect the distance calculations.
This website has a very uniform design, which can be seen throughout its pages. They have gone with a black color theme which looks 'cool' and corporate at the same time.
As a website that promotes the use of its software, Air Plane Manager is designed pretty well.
But for a person who doesn't know what this company does, the website does not play a great part in educating them.
Once you are done with all the inputs, you will have to click the action button given below, and the answer will be displayed in the result section.
The calculator won't only give you the distance in nautical miles but also a few extra details about the route.
4. Web Flyer: Mileage Calculator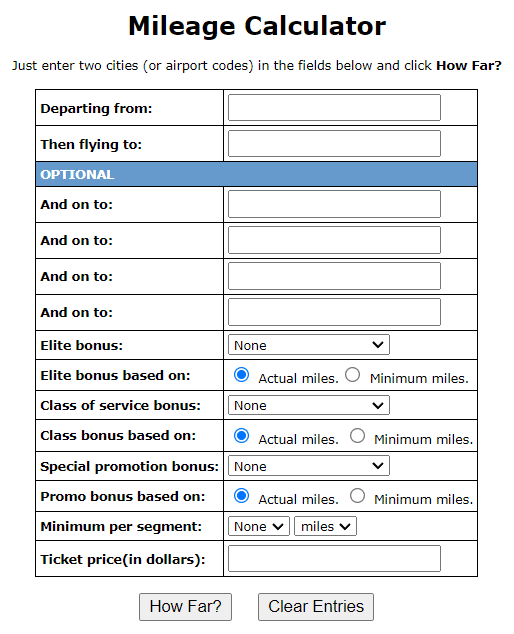 Web Flyer is a website that provides tools and information related to flights and airports. It is hard to summarize what Web Flyer does but for the most part, its main focus is on commercial aviation.
You can find several tools on this website that are otherwise hard to find, but unfortunately, Web Flyer is not widely used.
From a design and UI point of view, this calculator doesn't really deliver that well when compared to the rest of the calculators on this list.
The interface is very basic, and the font size is too small. In addition to that, there are a lot of (optional) inputs that can be a bit intimidating for new users.
Just enter the names or codes of airports at the very top of the calculator, and if you want, you can also use the optional section to add further details.
The design of the rest of the website is even more unsatisfactory than the calculator. The styles and fonts used aren't visually appealing and give the website an outdated look.
It is hard to find your way to different sections of the website as they are not clearly mentioned.
You can see numerous ads running throughout the website. Even though they won't affect your interactions with the calculator, it is still annoying to have them around.
Click the button labeled "How Far?" and you will be directed toward the results. The results tables will include both the one-way distance and the round-trip distance.
End Note:
Calculating air miles can come in handy in a lot of situations, and you only want to use the best calculators when it comes to that.
The best inputs for an air miles calculator are the codes or names of the airports rather than some random locations. Airports have defined air routes that are more accurate and reliable.
The total distance of air travel is a sensitive value and can vary in certain cases even on similar routes.
All the calculators that have been mentioned above are more than qualified to give you accurate results.
Selecting the best calculator comes down to your personal preferences. Just go with the one that you feel most comfortable with.